ITC-PSPD: Strategic investments helped deliver revenue growth and increased profitability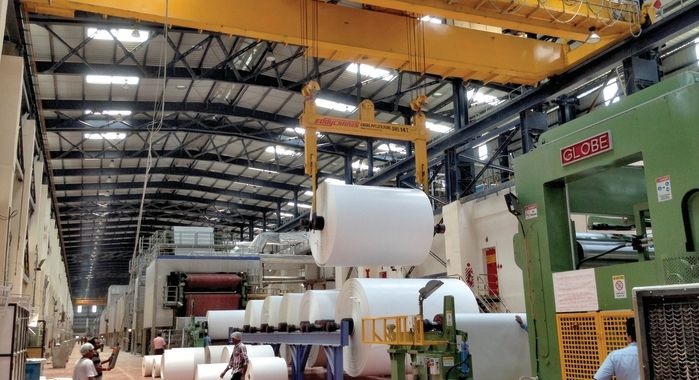 ITC-PSPD: Strategic investments helped deliver revenue growth and increased profitability
Strategic investments in pulp import substitution, proactive capacity addition in Value Added Paperboard segment, process improvements and a cost-competitive fibre chain supported by effective go-to-market strategies helped deliver revenue growth and increased profitability in the Paperboards and Paper business
SECUNDERABAD | 29 December 2020 | The Pulp and Paper Times:
Despite a subdued operating environment and sluggish demand conditions, ITC's Paperboards and Specialty Papers Division (ITC-PSPD) achieved its highest ever volume of production and sales, crossing 8 lakh tonnes, driven by strategic investments in augmenting VAP manufacturing capacity, continuous focus on enhancing operational efficiency and innovations across the value chain. ITC-PSPD remains the clear leader in the VAP segment and continues to consolidate its preferred supplier position amongst leading end-use customers and brands. It is also a leading player in the eco-labelled products segment and premium recycled fibre based boards space.
In the ITC's annual report for FY 19-20, report says, that Paper and Paperboard industry remained relatively muted in 2019-20. General economic slowdown, sharp fall in rural demand and tight liquidity conditions impacted end-user demand across segments.
Pulp prices which started correcting towards the end of 2018-19, declined sharply during the year due to contraction in global demand and higher inventory levels.
The fall in pulp prices not only resulted in lower price realisation, but also led to a surge in imports of paper into the country. This, along with subdued demand conditions which have been exacerbated by the COVID-19 pandemic, is likely to render the business environment challenging in the short-term.
Report admits that in the Paperboards, Paper and Packaging segment; ITC-PSPD's margin expansion was driven by higher in-house pulp production, enhanced operating efficiencies and benign input costs.
Report further stated that Global demand for Paper & Paperboard in 2019 witnessed degrowth of 2% on the back of weak demand mainly in Asia and North America. Going forward, demand recovery is expected to be led by the packaging segment while demand for writing & printing and newsprint segments is expected to decline. The growth in the packaging segment is expected to be driven by essential consumer goods, pharmaceuticals, food service and e-Commerce. Writing & Printing and Newsprint segments, on the other hand, are expected to remain under pressure largely due to increasing adoption of digitisation and proliferation of smartphone usage.
Domestic demand for Paper & Paperboard which remained subdued for the first nine months of the year, started witnessing a marginal pick-up in growth trajectory in the fourth quarter. However, nation-wide lockdown amidst the COVID-19 pandemic halted the recovery momentum, and led to demand contraction in the ensuing months. Beyond the short-term, demand is expected to be primarily driven by essential consumer goods in the FMCG industry, Pharma and Food delivery sectors
While growth in the domestic paper and paperboard industry was subdued during the year,cheap imports of paper and paperboard continued to flood the domestic market. Imports from China, ASEAN and South Korea rose sharply by 27% during the year. The current import policy and extant regulations governing commercial and social forestry in the country have put the Indian Paper and Paperboard industry at a significant disadvantage vis-Ã -vis imports. There is clearly a need to review the current import duty structure and re-examine the existing Free Trade Agreements (FTAs) as well as the new ones under formulation, towards providing a level playing field to the domestic industry and encouraging commercial farming of wood in India. Legislative changes along with appropriate environmental safeguards need to be implemented to enable private sector participation in commercial forestry on drylands and wastelands.
Report discloses that recent capacity augmentation in the VAP segment at Bhadrachalam mill has been fully absorbed and the line is operating at full capacity, delivering superior quality board which has been well accepted in the market. In line with its pursuit of providing sustainable packaging, ITC-PSPD introduced recyclable barrier board 'Filo' series – a substitute for single-use plastics in the food service segment. The biodegradable 'Omega Series', launched as an alternative to plastic coated containers and cups is gaining significant customer franchise. ITC-PSPD continues to augment capacity through efficiency improvements of existing machines to support future growth in VAP segment.
PULP BUSINESS:
"ITC- PSPD continues to make structural interventions to reduce operating costs and dependence on imported pulp. Significant increase in in-house pulp production was achieved during the year through strategic interventions, Industry 4.0 initiatives and improved wood mix. Capacity utilisation of Bleached Chemical Thermo Mechanical Pulp mill (BCTMP) at the Bhadrachalam unit was further scaled up during the year. Innovations in the pulp mill have resulted in higher pulp production and improvement in pulp quality and yield. Initiatives such as bund plantation and plantation in core catchment area in Odisha (Malkangiri) will help in further reducing delivered cost of wood at the Bhadrachalam mill," report stated.
In line with the objective of enhancing the share of renewable energy in its operations, ITC-PSPD has implemented several initiatives including investments in a green boiler, soda recovery boilers, high pressure & efficiency circulating fluidised bed boiler, solar & wind energy and increased usage of bio-fuel. With these initiatives, renewable sources presently account for 43% of total energy consumed at the Bhadrachalam, Bollaram, Tribeni and Kovai units. Your Company has embarked upon a pioneering initiative at the Bhadrachalam mill that seeks to replace conventional soda recovery boilers with a state-of-the-art and future-ready high pressure recovery boiler along with pulp capacity augmentation. This intervention will reduce the carbon footprint of operations through lower coal consumption and enable significant value capture in the system by enhancing in-house pulp production. The project is expected to be commissioned by 2022.
INDUSTRY 4.0
ITC-PSPD has been practising principles of Total Productive Maintenance (TPM), Lean and Six Sigma for over a decade now and has reaped substantial benefits through its Business Excellence initiative. Implementation of several Industry 4.0 initiatives is underway focusing on areas such as Internet of Things (IoT), Artificial Intelligence and Advanced Analytics. Several projects using Industry 4.0 levers have been successfully completed during the year resulting in significant savings. ITC has launched an Industry 4.0 Centre of Excellence (CoE) to build in-house capability in new technologies.
These interventions will further help in sustaining and enhancing company's competitive advantage.
DÉCOR SEGMENT:
Report shows its concern on décor paper import hampering domestic growth, "The recently commissioned Décor Papers machine at the Tribeni unit caters to a diverse range of world-class products and continues to be well accepted by discerning customers. During the year, the décor papers portfolio came under pressure from cheap imports, especially from China. Appropriate policy interventions to encourage higher level of import substitution will help realise the full potential of this sector," report says.
Web Title: ITC PSPD Strategic investments helped deliver revenue growth and increased profitability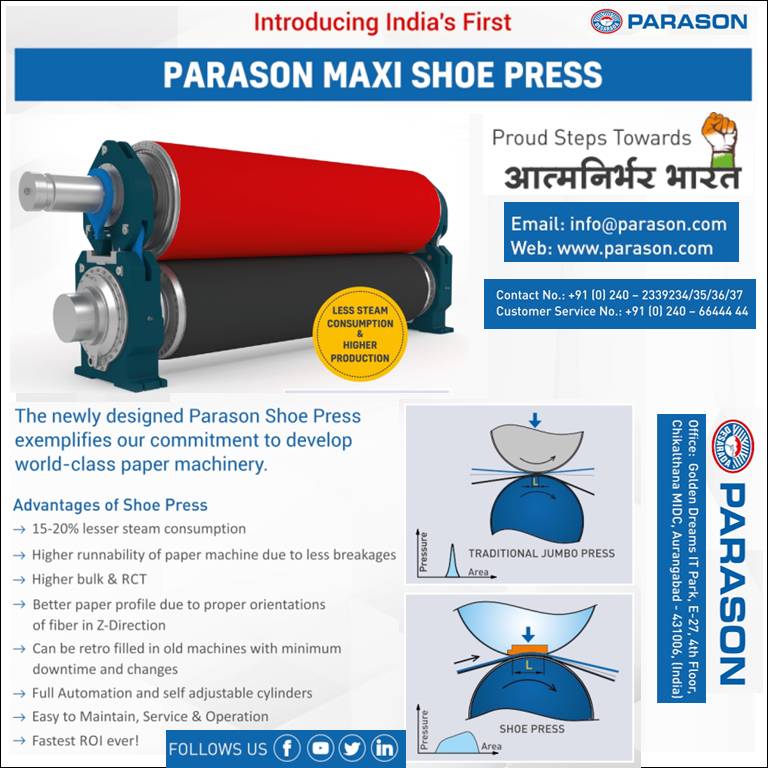 More News From paper-mills
Next Stories