'Paper mills cannot simply shift from deinking to agro-based and agro-based pulp to wood'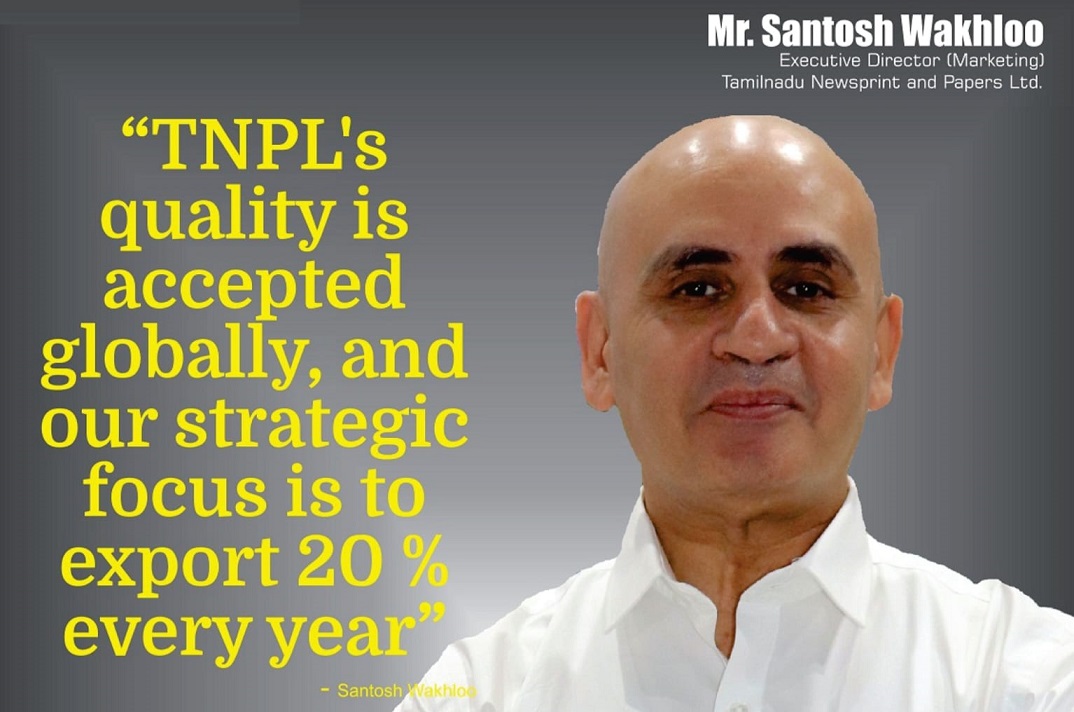 'Paper mills cannot simply shift from deinking to agro-based and agro-based pulp to wood'
-we are working on boards for liquid packaging, which is under trial.
- With good quality paper, India holds advantage in global market
Although the work has resumed in paper mills, they are still tackling the shortage in the availability of pulp from international sources. The Pulp and Paper times got the opportunity to interview Mr. Santosh Wakhloo, Executive Director (Marketing), Tamilnadu Newsprint and Papers Limited (TNPL). Mr. Wakhloo shared his insights on the current and future scenario of the Writing Printing Paper, Copier Paper, and Waste Paper crisis, among others.
July 2022 | The Pulp and Paper Times
Q: Post-Covid, what is the market scenario for writing and printing paper?
Suddenly, the demand for paper stopped during Covid, and no one could anticipate its impact. The first wave of Covid and lockdown blocked the inventory and cash flow of the industries. The paper manufacturers had already produced notebooks, but the buyers delayed or blocked the payments. As it was a national emergency, the industries understood and coped with the situation. However, during the end of the first wave, there was a solid demand as the market was reopening, and everyone thought they would survive the situation and start again. Then the second wave hit, and many people struggled and faced problems.
They manufactured paper twice and were yet to receive money for the earlier shipment, and the country was on lockdown for the second time. In September, the season for notebooks and textbooks starts, but no one started manufacturing, printing, or even planning, thinking what if another wave hit. It is like the saying - Once Bitten, Twice Shy. With that uncertainty, nobody did anything, and this continued till December-January.
Schools, colleges, and offices resumed in January as the vaccination started. The work, which is done in 5-6 months, had to be done in 3 months. Paper mills initially held shutdowns and started exploring the market, exporting, and curtailing production. That is why nobody had an excess inventory with them. A printer can work double time, as it has idle capacity. The paper machine has a limited capacity and cannot produce stock of 6 months in 3 months. As a result, there was chaos as people were not getting the paper. Also, with the disrupted waste paper collection, there was no raw material available for paper making, and many paper mills shut down their operation. If you look at pulp and chemicals, there is no negotiation in the prices of pulp, but even after that, you are not getting the pulp.
Similar situations are happening with coal and chemicals as well, the supply is low, and the prices have gone haywire. It looks like a beautiful picture overall, on the one hand, there are so many bookings, but on the other hand, the prices and availability are causing problems. We had to frequently change our product mix due to a shortage of raw materials. We could not produce duplex paper, cup stock, or folding boxes due to a shortage of pulp.
For the past three months, the paper mills are making a profit and performing well. Mills are back in action and are looking at a profitable future. Another advantage Indian industries hold is that the exports are good, and there is a realization in the global market that the quality of Indian paper is also good. Indian paper mills have an opportunity to establish themselves in the market and outperform China which is facing many problems and trade-related issues.
Q: What pricing Scenario for copier paper do you see in the next six months?
In my opinion, the prices will stay stable for at least the next three months maybe a change of 2-3 % could be there depending upon the different players. The prices may soften in August- September, as it is off-season for publishers. Although cost pressures are affecting the prices, stability will be there. It is hard to predict pricing beyond three months. If the situation permits, the prices will remain the same throughout the year.
Q: Amid the crisis of Imported Waste paper, many paper mills think about an alternate fiber option - Agro-residue. How do you see mills shift on Agro-residue just because of its availability compared to wood fiber and imported waste paper?
The question of Agro-residue versus wood versus recycled paper is a dynamic scenario. We use all three at TNPL, and we buy imported pulp as well. The paper mills cannot simply shift from deinking to agro-based and agro-based pulp to wood. All of these require special machinery and technology, which means we can neither use the agro-based pulp in wood machinery nor can we do deinking. It is long-term planning for the paper mill to shift to a specific type of pulp, and it takes around 2-3 years to start a particular plant. The availability of raw materials plays a critical role in getting return-on-investment paper mills have to wait 7-8 years. It is hard to forecast pulp availability, and whether we will receive a regular supply is difficult for all three types of pulp. Shifting between the raw material sources or supply is not something that will happen all of a sudden.
Q Many paper mills depend on international raw materials such as imported OCC, Pulp, etc. But their availability is not assured. What do you suggest to those paper mills that procure raw materials from international sources, so they can regularly get raw material at an optimum price?
Today, there is no certainty over anything. Just as we emerged from Covid, the war between Russia-Ukraine happened, so if you are expecting stability, it is not coming so smoothly. If we talk about long-term contracts, everybody wants to let the market stabilize first and observe it for 3-4 months. Someone may risk getting into contracts if the prices fluctuate by 3-5%. However, if the prices fluctuate by 15-20%, and freights are doubled or tripled, then nobody is in the condition to enter into contracts. It is sensible we get into spot business, business with visibility, 2-3 months is okay, but even six months is a very long time.
Q: ERPA (a recovered paper division of EuRIC) suggests, that to overcome the price fluctuation of waste paper, a long-term contract is the best option compared to one-time purchasing to get raw material at optimum price with sustainability in the availability. How do you see this?
If we talk about the Indian market or the international market, assuming paper prices were Rs 55 around six months ago, and today it is Rs 70-73. If I want a seller to give me a long-term price at an average of Rs 64, why will he agree to it? Because what will happen tomorrow if the prices go down to Rs 55-56 in this situation, neither seller nor buyer would opt for a long-term contract, secondly during uncertain times, saying that the long-term is good does not make sense. For instance, if a seller contracted to sell at 900 dollars for one year, and the current rate is 1200 dollars, imagine how much he would lose. So far, European paper mills are known to be consistent in long-term contracts. I can assure you that even top countries have broken the long-term contracts. I would say this is possible when the markets are stable.
Q: Any new paper product launched by TNPL recently?
We have done some SBS grades, an excellent product for books and notebook covers, which has good smoothness, brightness, and flexibility. Besides, we are working on boards for liquid packaging, which is under trial, but it is too early to share something about it. TNPL is doing well in the sublimation paper, and we may be the leader in India. It is an eco-friendly industry where paper is used instead of solvent-based inks to print on cloth/textile, and with this, we are stopping water from getting polluted. We are developing products with a focus on industrial applications. Writing printing paper will stay, but we cannot say the same for commercial printing and books. It will not happen immediately, but within the next 10-12 years, the pressures from digitalization will make it happen.
Q: Please share your view on TNPL's paper export. What quantity and grades of paper are exported, and is the market stable or volatile?
TNPL is the largest paper exporter in India. We exported approx 1.45 lakh metric tonnes of paper last year, which is higher than any paper mill. There were two reasons; First, during covid, the demand was low in India, so we started exporting because you cannot stock paper after a certain extent. Second, in some grades, the export realization is better than domestic. TNPL's quality is accepted globally, and our strategic focus is to export 20 % every year. It gives us two advantages; first, our quality gets benchmarked with global standards, and second, it provides us the stability that if anything goes wrong with the domestic market, we can make it up with exports.

Web Title: Paper mills cannot simply shift from deinking to agro-based and agro-based pulp to wood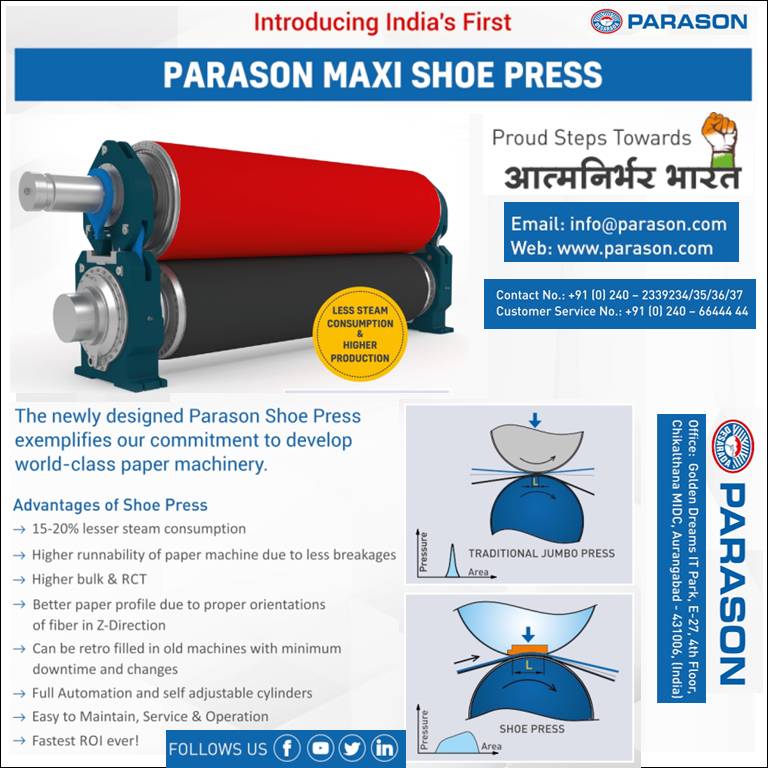 Next Stories