Nath Industries is developing VAPs like Barrier & Print Base paper; capable to enhance capacity of PM-1 by 30%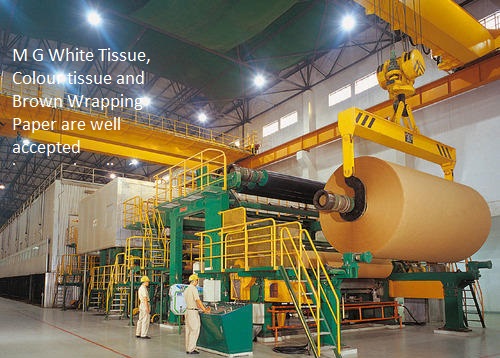 Nath Industries is developing VAPs like Barrier & Print Base paper; capable to enhance capacity of PM-1 by 30%
- NIL will launch Carry Bags/shoppers Bags grade paper
- Paper Division recorded turnover of Rs. 315.30 Crores (FY 21-22) as against the turnover of Rs. 213.00 Crores recorded in previous year thereby posting an increase in turnover by 48%
The Pulp and Paper Times:
Manufacturer of variety of grades of papers such as Absorbent Kraft, Carbon Base, Poster, Napkin grade tissue, Gift Wrapping Tissue, Color Tissues, Masking Paper and Protection paper, paperboards like DTY, POY, Thermal paper and other speciality coated grades, Nath Industries Limited (NIL) register the better results by taking various step by improving the energy efficiencies and also by exploring the new export markets.
"Non-availability of raw material was further aggravated by shortage of containers and international liners. The shortage was so acute that the logistic cost of 40ft container increased from $1600-$1800 to $2800 to $3600 resulted in increase in cost of imported waste paper over 50%. Decision of Indonesian Government decision of banning export of coal and shortage of containers resulted in sky rocketing the prices of coal from Rs 6 per kg to Rs. 15 per kg. In February 2022, the Indian Government levied an import duty of 2.5% on imported waste paper," Management said in the annual report of NIL for FY 21-22.
The management said that overall paper industry in general suffered due to the pandemic but we could register the better results by taking various step by improving the energy efficiencies and also by exploring the new export markets. Paper Division recorded turnover of Rs. 315.30 Crores as against the turnover of Rs. 213.00 Crores recorded in previous year thereby posting an increase in turnover by 48%
New innovations and trends are constantly emerging in the paper industry. The novel coronavirus has brought a focus on cleanliness creating new opportunities for tissue and toilet papers. Within the past year, the e-commerce boom has created a structural change in consumer habits. With the increase in online shopping, there has been a significant surge in corrugated and containerboard demand. According to a recent report by rating agency CRISIL, a strong revival in consumer spending amid the waning impact of the COVID-19 pandemic will help the paper packaging industry bounce back with a revenue growth of 15 percent this fiscal Constant innovations and rigorous R&D and regular trials are integral part of quality maintenance and excellence. Enriching existing product mix and newly developed products, provide strength and creating good space in all market segments.
Despite all the above adverse factors, NIL has registered a total income of Rs 423.18 Cr and Net Profit of Rs. 16.65 Cr.
"We take pride to announce that, a huge, strong and well organised distributors network spread all over the country and overseas destinations creates easy passage for marketing company's products with a consistency in quality and value." The Management informed.
UNIT- RAMA PAPER
Unit Rama Paper achieved Turnover of Rs. 133.41 Crores as against turnover of Rs. 95.52 Crores in previous year. Sales volume increased to 22,590 MT as against the 18,777 MT of previous year. Export turnover was increased from Rs. 39.32 Crores as compared to Rs. 16.12 Crores recorded in previous year. The capacity expansions undertaken by the unit has been completed and we could enhance the capacity of our paper machine 1 by around 30 %.
The project for the FBC boiler and 2 MW power plant is also progressing well and will be able to commission it by September 2022.
PRODUCTS AND NEW PRODUCTS LAUNCH
Green Movement is grown vastly and supported world vide. Continuing our full support to this cause, Mac D Kraft launched last year for Paper Bags, which is well established and contributing greatly. Valuing synergic combination, we will launch Carry Bags / shoppers Bags grade paper for volumes and value addition both.
NIL has greatly succeeded to attain sizeable market share for its crown product, Absorbent Kraft in Global and domestic turf. In consideration to this, Nath Industries is rigorously working to develop and launch, the other affiliated and value-added products like Barrier Paper and Print Base paper which will generate good revenue and further consolidate our market leadership.
Its M G White Tissue, Colour tissue and Brown Wrapping Paper are well accepted internationally for decorative and Gifting segments, NIL has developed Electro thermal (heat resistant) grade of Paper for creating frills and designs in Garments. Considering the constant Growth in home and international markets, the company brasses up to have its bigger share of Markets for Carry Bags paper for shoppers, Two more Speciality grades of MG Kraft papers for Automobiles painting and digital printing in garment and textile Segments.
These technically innovated products will be added this year to company's product mix / profile for further enrichment.
UNIT -NATH PAPER
The performance of Unit Nath Paper has been satisfactory despite various economic and industry challenges. Despite challenges like erratic demand, competitive market scenario and heavy volatility in the raw material & fuel prices, your company has been able to put forth a satisfactory performance.
Your Company's Unit-Nath Paper has produced 38,939 MT of Core Board (Previous Year 36602 MT) and Thermal Paper 2734 MT (Previous Year 2318 MT). Unit Nath Paper has achieved turnover of Rs. 184.43 Crores (Previous Year Rs. 130.52 Crores) by selling 38793 MT of Core Board (Previous Year 36532 MT) and 2777 MT of Thermal Grade Paper (Previous Year 2312 MT).
During the year, various measures were undertaken by your company to enhance product efficiency & production capacity. The Company's capital investment has helped in reducing the power consumption and increase in production at the same time.
Company is setting 1 MW solar power on OPEX basis, which will be commissioned by May 2022. This measure will help in reduction of the energy cost of the Company.
Products:
Unit-Nath paper is producing high GSM Core Boards and Thermal Paper, which are well received in the market.
• Core Board is used for manufacturing of paper tubes used by textile and plastic films manufacturing industry. Company is producing Core Board TTP 500 & TTP 600 grade.
• Thermal Paper is firmly established in many areas of daily life with wide range of applications like ATM Rolls, Cash Deposit Kiosks, Point of Sales Receipts, Cash Registers, Movie Tickets, Bus Tickets, Parking Slots, and Toll Tickets etc. This technology provides speedy, reliable, economical, and high-definition images.
• There is a good demand for paper bags with the ban on plastics, hence we have developed Bag Paper, which in the coming year will also become one of our major products.
With the future plan, the company would strive and would be able to serve and add value to the customers – Domestic and Global.
The company looks up to the water treatment chemical as future potential industry and intends to cater to the demand by Imports and new product development to cater to the diverse water applications like Effluent/waste water treatment, Aquaculture & Hospitality Industry.

Web Title: Nath Industries working to develop VAPs like Barrier & Print Base paper; could enhance capacity of PM-1 by 30%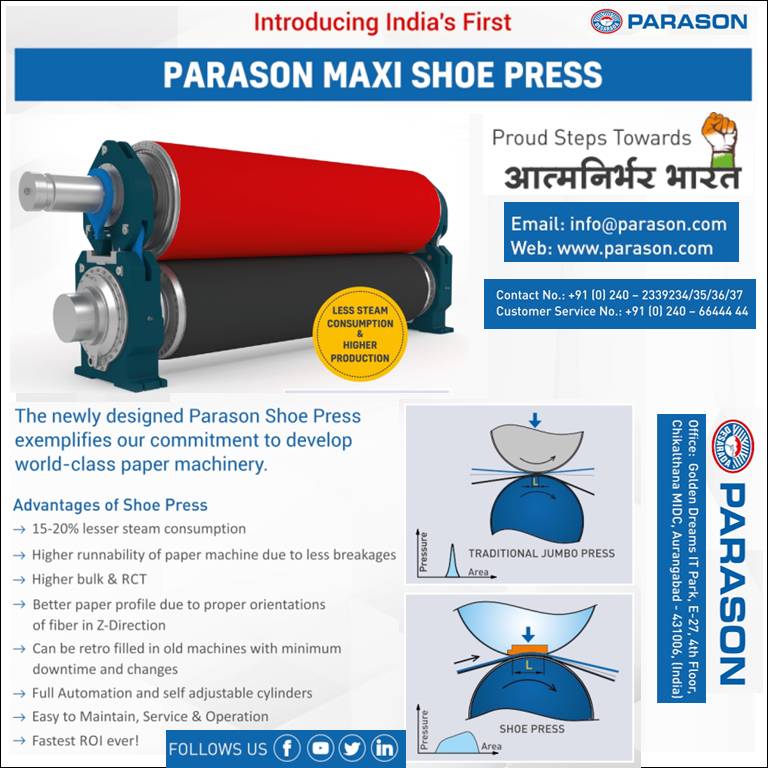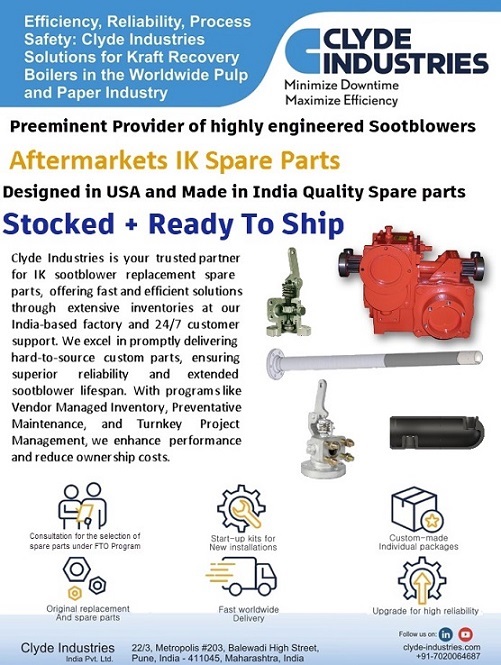 More News From paper-mills
Next Stories