"Mill Development Plan-III is our business strategy for sustainability." Ganesh Bhadti, President- Operation, Seshasayee Paper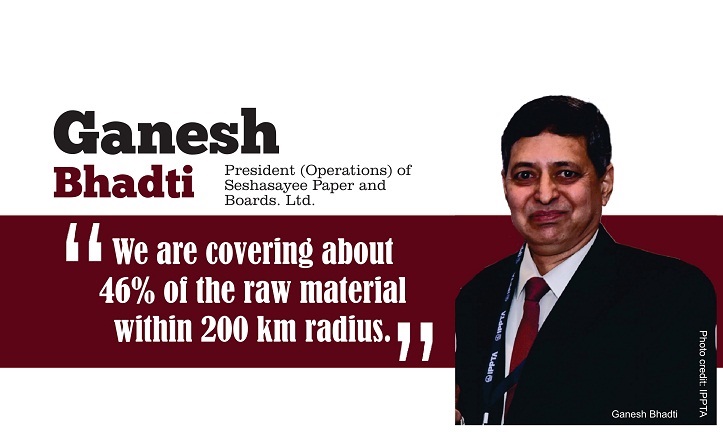 "Mill Development Plan-III is our business strategy for sustainability." Ganesh Bhadti, President- Operation, Seshasayee Paper
-SPBL is in the process of developing some more new multilayer products.
Recently, The Pulp and Paper Interacts with Mr. Ganesh Bhadti, President- Operation, Seshasayee Paper and Boards Ltd. Mr. Bhadti Discussed various developments happening in SPBL such as Product Mix change, Raw Material Supply Chain, and Mill Development Plan (MDP-III). Here is his interview:
April 2022 | The Pulp and Paper Times:
Q: In General, How did the Covid Pandemic impact the way of working of the Seshasayee Paper and Board (SPB)?
Though we are impacted severely in terms of financial performances, supply chains, inputs cost, higher finished inventories, drop in market demand, delay in MDP III projects, but we have well adapted ourselves to the scenario by change in our business strategies.Entering in to the new segments, development of our new products like cup stock, industrial papers, kraft varieties & creating business opportunities with minimum inventories and retrieval of our board varieties, rescheduling our planned shuts, running of paper machines with stored pulp with meticulous planning etc. helped us to stand up and survive in critical times. We continued our operations with optimum man power to protect all our well beings. The part of MDP taken up in paper machines and chemical mill have added values to our sustainable operation. Happy to share that under our welfare activityall our employees, contract labours, our family members are all vaccinated.
Q: The Mill Development Plan-III (MDP) is scheduled to complete in FY 2022, what are the core areas where MDP will benefit SPB?
Major expansions were taken in paper machines which will helps us in making new products and enter in to new regime. For the pulp requirement to cater the need of both the units, we have invested in our pulp mills,with in house modification of digester.New Brown Stock Washers are added to reduce the chemical losses and reduce bleach chemicals and therebyreducing effluent load in terms of colour, TOC & COD. Up-gradation of our recovery complex was to enhance our green energy percentage, while taking care of enhanced pulp production. MDP III is our business strategy for sustainability and now we are geared up to reap the benefits.
Q: Wood, Coal, and Chemicals have seen a surge in prices and hampered supply, how does SPB manage the supply of all above major raw components during a pandemic?
The materials listed were stocked temporarily in Tuticorin port yard in sufficient numbers before the pandemic and after the curfew the materials are regularly brought to our SPB mill site. The materials for the next consignment was planned deliberately to satisfy our mill production requirements. We have deferred the coal shipment in order to avoid the quarantine period at the discharge port which attracts huge demurrage with respect to berthing, discharging and custom clearance.
Due to the non availability of Lime stone shipment, we have arranged burnt lime material from the indigenous source. Most of the factory premises of chemical suppliers were under shutdown in the initial stages of lockdown. Our interventions with the local authorities helped revival of their facilities and we could maintain the business continuity.We also deputed Purchase dept personnel for arranging Methanol escort transportation at the border to facilitate getting the necessary permission from SP office, Coimbatore. We have intimated to supplier's the operational control procedure to be followed for COVID-19 during transportation & supply of materials, regularly all the Lorries were sanitized and drivers were checked to avoid the pandemic COVID-19 permitting to our mill premises.
Q: Getting good quality raw materials has been an issue for Integrated paper mills, SPB is also one of them, SPB spends about 120 US $ per ton of wood in India, whereas outside India, it is about US $ 60. How SPB is framing its farm-forestry strategy to minimize the fiber cost?
SPB has initiated Farm forestry programs in the year 2005 and promoted contract pulpwood farming. Through this scheme, SPB introduced clone based species introduction, technological support, assured buy back and prompt payment are the major interventions to attract more farmers towards pulpwood farming. Technological support and services are rendered by Forest College and Research Institute, TNAU and Institute of Forest Genetics and Tree Breeding (IFGTB), Coimbatore.
SPB is promoting fast growing, short rotation and high yielding species such as Malaivembu under Contract Farming in close proximity areas for pulp production.SPB is promoting more quantity in local procurement areas.SPB is encouraging the local farmers to sell their wood produce to SPB directly.
Q: For its fiber needs with a long-term vision, Andhra Paper Ltd (APL) has brought down haulage radius from present up to 300 KM to within 150 KM from mills in the state of Andhra Pradesh; this has helped in reducing the price of virgin fibre during FY 2020-21 for APL. How does SPB assess this strategy?
With our tree farming extended to down south area, we cover 36 % of the total wood requirement with in 200 km radius. Also, we are now working on cooking of high yield varieties like Malaivembu, Subabul along with the other varieties. This will help us in increasing our options of the raw materials consumption based on product mix. By this we will further decrease the radius of wood procurement as these are available near-by. In parallel, 10% of furnish includes agro residues also. In total, at present we are covering about 46% of the raw material within 200 km radius.

Q: SPB was planning to change its product mix in order to minimize the pressure on Writing and Printing Paper, also 3rd wave has also impacted the paper demand. What new products market can be expected by SPB in Fy 22-23?
In order to meet the customer demand new product for packaging segment were developed and introduced in the market. There is a good response on quality from the consumers and order quantity is increasing. To high light our new products are in multilayer products like MF Plain Kraft from MF1 which was received well by the customers. Received repeat orders too in this product. Then Multilayer Cup stock (Prime) for manufacturing paper cups.
Entered into new segments viz. Paper bags, Corrugation, deep colored wedding cards, paper cup (for wall), mono cartons, rigid cartons, packaging, match Industry, notebook cover etc. with our new products stated above.Manufactured and supplied Tablet Paper to US market and orders received for the same product from Ivory Coast too. Also started marketing cut size Copier with a new attractive multicolored laminated wrapper and carton.
We have developed suitable wrappers and cartons to market Sprint Plus 80 gsm in A3 and Folio sizes. We are supplying Stationery items (pads) for the first time to "Dollar Tree", a popular chain of stores. To add, for the first time, we have supplied Copier grade reels to US (to be converted into branded copier at US) and entered into new overseas markets viz. Chile and Mexico.
We are in the process of developing some more new multilayer products viz. Carton Board, Kraft Liner Boards for different and new segment. Received orders for these products after the first commercial run, we expect to get more orders.
Web Title: "Mill Development Plan-III is our business strategy for sustainability." Ganesh Bhadti, President- Operation, Seshasayee Paper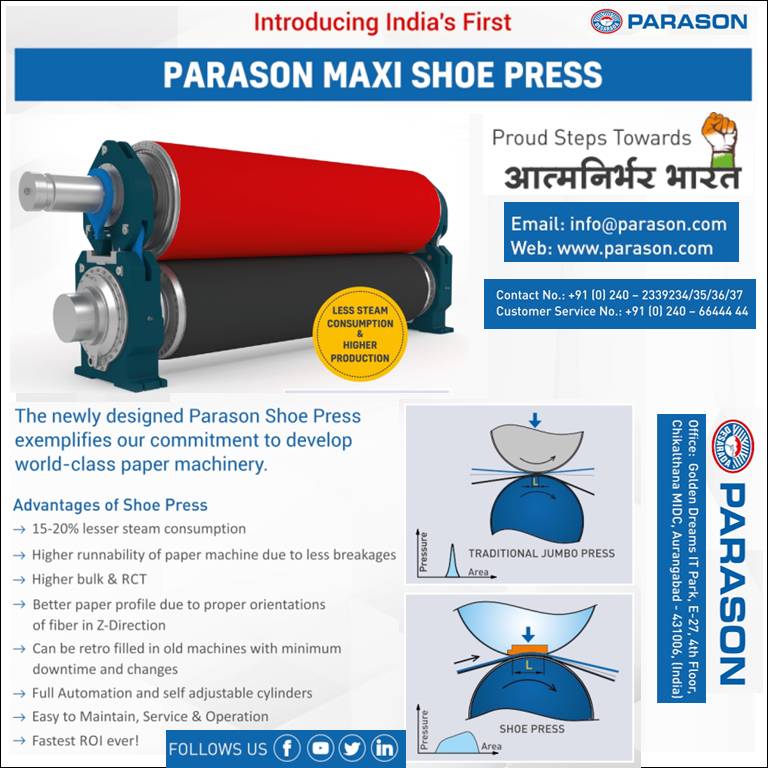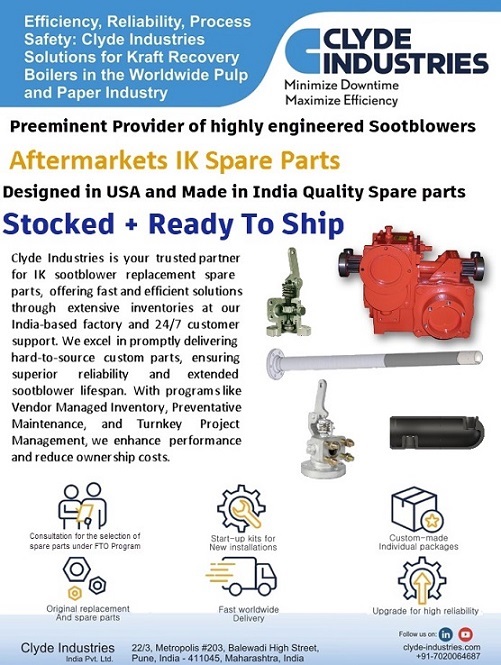 More News From interviews
Next Stories