Century Pulp & Paper is focusing on the development of multiple products & innovating different forms of pulp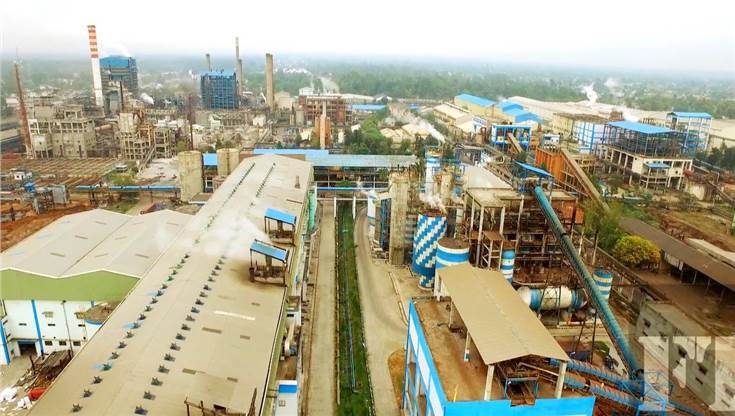 Century Pulp & Paper is focusing on the development of multiple products & innovating different forms of pulp
-Clocked a revenue of INR 2,818 crore in FY21-22
-CPP is focusing on the development of multiple products including straw paper for use as replacement of plastic straw, honeycomb or kraft paper used as cooling pads in coolers, water resistant eco-friendly barrier coated board as well as anti-fungal board.
Lalkuan | 22nd July 2022 | The Pulp and Paper Times:
Globally, last financial year was one of the toughest periods for Paper industry. Paper consumption points were not operational for major part of the year. Timely availability of key raw materials remained a challenge. Due to disrupted supplies, cost of couple of these raw materials touched their life-time high levels. In turn, paper manufacturing players passed these increased costs to their end customers.
Century Textiles and Industries Ltd's chairman Mr. Kumar Mangalam Birla said in its annual report that The pulp & paper industry has been under pressure due to increasing raw material prices, shortage of key inputs like wood and coal, supply chain challenges and short-term demand hurdles due to COVID-19 variants. At the same time, the pandemic has brought focus on cleanliness, creating new opportunities for tissue and toilet paper. The e-commerce boom over the last two years has led to a surge in corrugated and container board demand. Demand is also expected to pick up in FMCG, healthcare & pharma, packaged foods, and the textile sectors, especially for eco-friendly packaging options. The reopening of educational institutions across the country and the implementation of the National Education Policy (NEP) 2020 should also contribute to the demand for writing and printing paper. The proposed ban on single use plastic is expected to further fast-track the adoption of alternative, environmentally conscious options.
Century Pulp & Paper (CPP), India's leading integrated pulp & paper company who provides comprehensive and innovative writing and printing paper, tissue, multi-layered packaging board and rayon grade pulp (RGP) products to a wide range of customers across the globe. CPP, India's only integrated single-location manufacturer of writing and printing paper, multilayered packaging board, tissue and Rayon Grade Pulp with a capacity of 4.81 MTPA at our unit in Lalkuan, Uttarakhand.
"We believe that the need to innovate is greater than ever for achieving our vision. We are focusing on improving our process and product portfolio in a sustainable manner. Our focus on innovation and ability to deliver on our commitments helps us to not only stay relevant in fast changing environment but also to become a trusted partner of our customers. Going forward, we are focusing on the development of multiple products including straw paper for use as replacement of plastic straw, honeycomb or kraft paper used as cooling pads in coolers, water resistant eco-friendly barrier coated board as well as anti-fungal board. Our R&D team is also looking at ways to substitute different forms of pulp like wood base, agro base and re-cycle base to formulate new recipes that help reduce per ton pulp usage of paper production," said Mr. Vijay Kaul, CEO, Century Pulp & Paper
Despite the challenging environment, Century Pulp and paper has grown over pre-Covid levels, with near 100% capacity utilisation. Going forward, the expected increase in demand from multiple downstream industries and the government's focus on eco-friendly options opens up a host of possibilities for the business. We will be strategically working on expanding our portfolio and our manufacturing and integration capacity to capitalise on the available market opportunities.
"The business reached the pre-covid level despite multiple restrictions being in place in application industry for larger part of the year. The production capacity was fully utilised with average capacity utilisation at 99%, to meet consumer demand. We clocked a revenue of INR 2,818 crore in FY22 as compared to the INR 1,774 crore in FY21, marking a substantial growth of 58.8%. EBITDA also saw a strong growth of 91.9%, growing to INR 424 crore in FY22 as compared to the INR 221 crore in FY21. Efforts to re-align the product mix and increase efficiencies enabled robust performance, partially mitigating the impact of increasing raw material cost. We also took multiple efforts to manage the volatility in the inputs cost, including usage of substitute inputs, inventory management, and induction of new supply partners in addition to re-negotiations with the existing suppliers," said Mr. J. C. Laddha, Managing Director, Century Textiles and Industries Ltd in the annual report for fy 21-22.
He further says that the demand in this segment is expected to considerably go up. We are applying the pareto principle and looking for machines which provide us increased flexibility and innovative offerings to meet the demand. We are also working on strengthening our raw material sourcing to manage volatility in input markets. Our proficient and visionary R&D teams are in the process of innovating different forms of pulp with the aim to cut down on per ton pulp usage in paper production. Keeping sustainability at the forefront, we are continuing our efforts to come up with unique and eco-friendly methods of using paper products – paper straw to counter plastic straws, turning honeycombs and craft paper into cooling pads and the development of biodegradable water-resistant barrier coated boards. In line with our sustainability commitments, we are looking to increase our local raw material sourcing. As we work on securing our place as industry leaders in each of the segments, we will be looking at both organic and inorganic growth options.
Product highlights FY22:
PE free antifungal ARSR
In line with changing dynamics, the emphasis on replacing plastic in packaging products has been increasing. We recently replaced the PE coating which is treated as plastic in our ARSR products. The new product is used primarily in soap wrappings. In addition to being sustainable, it also has antifungal characteristics, improved quality and a nonstick feature. We see the product gaining significant market share over the next couple of years, as reflected in the market response.
Century Prima MR board
A leading FMCG Company, who are in an elite segment in their industry, approached us with a demand for a customized product. They wanted to commission base board which could be used as a mosquito repellent after chemical treatment at their end. Our R&D team set to work, and we successfully launched the product, meeting all the compliance requirements at the customer's end. We foresee the monthly demand potential to increase over the next three years from the current levels.
A list of innovations:
CARRIER TISSUE
It is a unique product, manufactured only by us in the whole country. It has a high and dry wet strength and serves as a transfer and cover sheet for absorbent fluff pulp in diapers and feminine hygiene products.
HIGH BF KRAFT
After a series of experiments in the design lab, we have been able to develop high BF kraft paper by using virgin, unbleached pulp. The eco-friendly, food grade product passes compliance of heavy metal content, pentachlorophenol (PCP) and polychlorinated biphenyls (PCBs) by FSSAI. The product is currently used by some of the major food chains in India.
DISPOSABLE BED ROLL
Our disposable bed roll, launched last year to meet the demand for disposable OPD products, have gained traction in the health care industry. Made of high-quality virgin tissue paper, these rolls offer an eco-friendly, bio-degradable, OBA-free (Optical Brightening Agents) hygiene solution. We are further studying the product to expand its market potential application.
CENTURY GREEN PULP
This pulp is made from agro-waste of sugarcane i.e. bagasse, a completely bio-degradable and compostable product. The pulp is being used to make eco-friendly tableware through moulding technology as a replacement of plastic plates, plastic bowls, thermocol glass and thermocol plates. Tableware thus made from Century Green Pulp are FDA complied and meet the requirements of FSSAI guidelines for packaging products for food.
EXPANSION & MODERNISATION:
During the year, the New Tissue Plant (TM7), to manufacture Prime Grade Tissue paper with a capacity of 100 tons per day has been capitalized. However, due to the ongoing pandemic during Q4, international travels were banned throughout the world. As a result, there was delay in getting visa approvals from the Government of India, for the entire technical team of the OEM supplier. Therefore, couple of teething issues are still pending to be sorted out.
At present, CPP are manufacturing paper from Paper Mill 3 (Bagasse base) & Paper Mill 4 (Recycle base) both having monthly capacity of 7,200 Mt each. We are making technical upgradation, removing bottlenecks and balancing the plants, post which our monthly paper manufacturing capacity will increase to 8,500 Mt from each Machine (PM 3 & 4 individually). This expansion, will also help in reducing overall manufacturing cost (of these two machines) and quality improvement.
As reported last year due to Covid-19 no erection and commissioning activities could be undertaken during 2020-21 for upgradation of Paper Machines 3 and 4 and for installation of a new evaporator. Necessary steps are being taken for completion of erection and commissioning of the said Paper Machines and installation of evaporator by June, 22 and July, 22 respectively.
Web Title: Century pulp & Paper is focusing on the development of multiple products & innovating different forms of pulp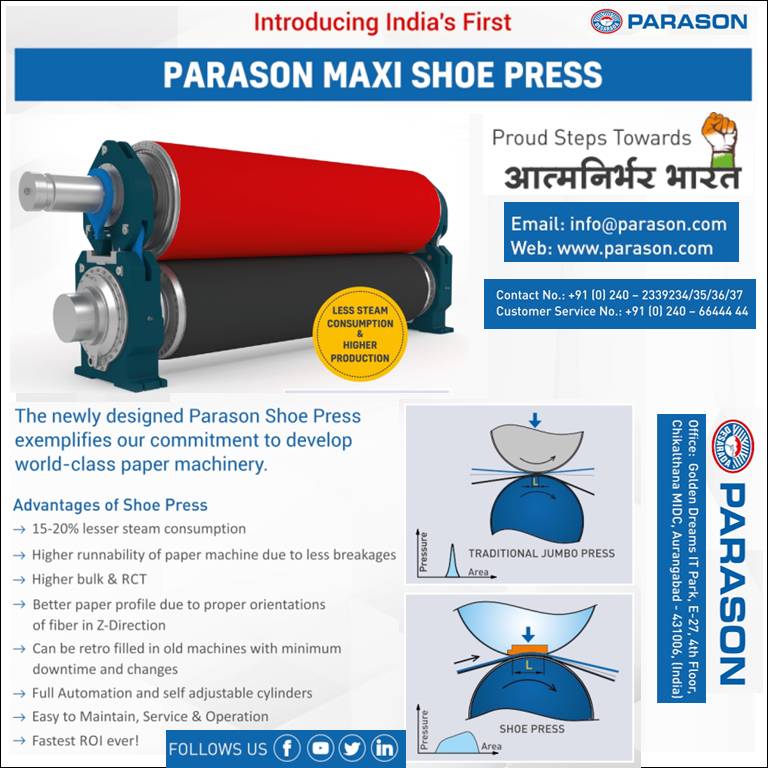 Next Stories