Global paper and board capacity will grow in carton boards, container boards & tissue by 25 million tons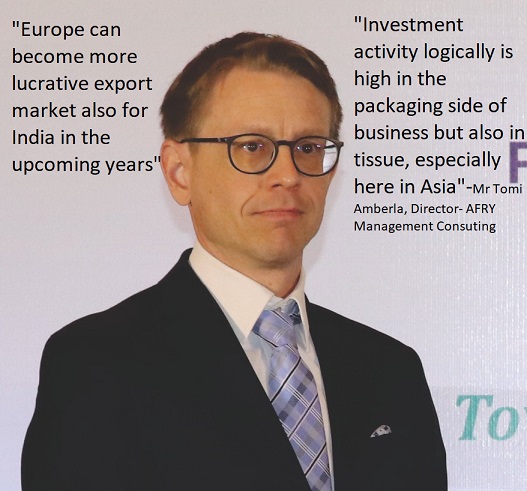 Global paper and board capacity will grow in carton boards, container boards & tissue by 25 million tons
- Graphic paper market in the west is shrinking but not disappearing
- Europe can become more lucrative export market also for India in the upcoming years
- In tissue sector more than 70 new tissue paper machines are going to install of which most will be in Asia
- Large investments on new folding boxboard machines are happening in China, Indonesia & Brazil
13th January 2023 | The Pulp and Paper Times:
The growth of global paper industry is consistent with size of 430 million tons. During the COVID period the market growth decline otherwise, it's been a steady growth. The decline in growth has been shown by graphic paper industry.
Addressing at the Indian Paper Manufacturers Association's (IPMA) 23rd Annual Session & Awards Function held in Delhi, Mr Tomi Amberla, Director- AFRY Management Consuting said that paper market in Asia is robust as demand for packaging and tissue paper will grow at 3% & 4% per annum respectively. Paper and wood market in Latin America and ROTA are in marginal decline, only -0.2% per annum, compared to Europe at 3% per annum up to 2030.
Mr Amberla commented on the Asian paper market, saying that growth in Asia is strong, close to 2% overall, whereas in Europe and North America, growth is close to nil due to the reduction of premium writing papers. When we look at different product groups, it is evident that packaging is leading the growth and represents a large portion of the growth. However, as previously said, printing and writing and newsprint are declining overall, but this will be partially offset by growth in the tissue and speciality grades divisions. This also applies to the development of investment pipeline capacity. We already have approximately 25 million tonnes in the pipeline. These are all decided or confirmed projects and we can see that the investment activity logically is high in the packaging side of business but also in tissue, especially here in Asia.
Mr Tomi gives the future outlook of global paper industry by apprising the expansion and investment happening around the world; he added, "In future, global paper and board capacity will grow in carton boards, container boards & tissue by 25 million tons. In Carton board sector large investments on new folding boxboard machines are happening in China, Indonesia & Brazil. In containerboard sector, many rebuilds and conversions in France, Germany, UK, Austria, Sweden and North America are happening. More than 50 container board machines are coming up in Brazil, Canada, China, India, Russia, UK, USA, etc. In the tissue sector, more than 70 new tissue paper machines are going to install of which mostly will be in Asia."
"Packaging industry is leading the growth across the paper industry by +45MT followed by tissue by +10Mt followed by others by +3Mt but P &W and newsprint industry show a trend of -10 Mt & -4Mt respectively." He added.
Mr Amberla says that when it comes to the emergence of the packaging paper business and the decline in graphic paper production, we need to take a step back and look at global demand and how different it is in what we call mature markets, which include North America and Europe, but also countries like Japan and Australia. So it is apparent that graphic paper is declining while the packaging industry is expanding. As a result, many graphic paper manufacturers have decided to strategically transition and exit the graphic paper sector.
He further added, "Reason behind an increase in the packaging industry is E-commerce penetration, takeaway eating, ageing population and convenience and reason behind decline in growth of P&W and newsprint is digital media & mobile device, the decline in paper advertising and direct mall reduction."
He mentioned this to demonstrate a little part of the transformation that has recently occurred. Store Enso was once one of the world's largest graphic paper makers, with more than 8 million tonnes of capacity in 2005. However, roughly three years ago, they made the choice to focus more on packaging grades. They also decided last year to exit the graphic paper business entirely by 2025. And they accomplish this by actively divesting some mills while also converting several mills to the packaging side of the business.
On the India paper market, Mr Amberla says, "Indian has become one of the largest single consumers of paper and board with about 20 million tons demand at the moment. But if we look at the other top five countries we can see that in India per capita consumption level is clearly below the other countries, especially Germany, US, Japan. So there is huge growth opportunity in the market. And our view at the moment is of course expecting solid growth to continue in the market for the upcoming ten to 15 years. We are projecting about to 3 to 3.5 percent growth on average and actually above average growth for certain specific segments such as the Virgin fibre based carton boards overall. A big segment container boards already continues to grow and also still a printing and writing paper business thanks to increasing business activity, development of the educational sector and so on."
"Tissue is reporting the highest growth rate but the market size is still reasonably low volume impact. It's not as big as in the packaging side of business. So the domestic market opportunities are very promising and healthy. But beyond that there are also opportunities outside India we have seen that in the recent years actually the exports of paper have been going up. In wood free paper exports where we can see clearly upward trend with the exception of the COVID year 2020. In the meantime, Europe also has been always the net exporter of uncoated wood free but we can now clearly see that actually net exports gradually have started to go down. And now an important point to be considered in Europe is that actually most of the imports from Russia to continental Europe has been drying off. So in fact Europe can become more lucrative export market also for India in the upcoming years." He said
Conversion activity in the west has been high for more than a decade however, conversion can't be the only exit route. This could bring along interesting opportunities & potential market for Indian producers – graphic paper market in the west is shrinking but not disappearing.

Web Title: Global paper and board capacity will grow in carton boards, container boards & tissue by 25 million tons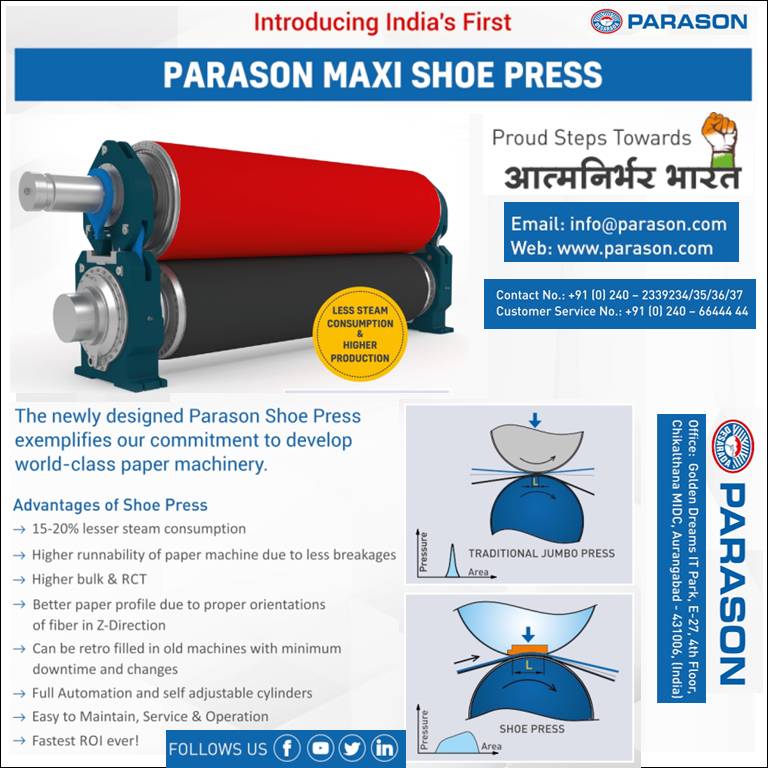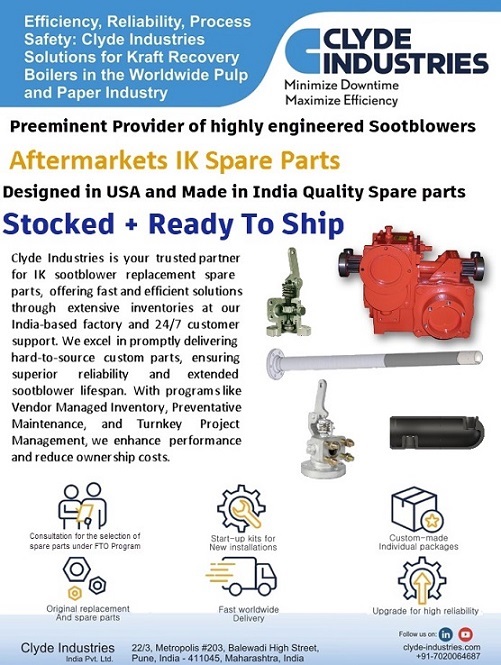 Next Stories