JMC Papers Mill is expected to commence in Y2024; future expansion in white top liner kraft & tissue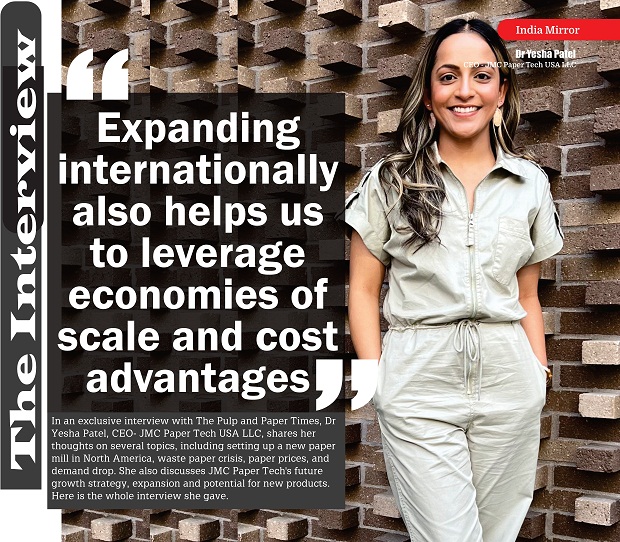 JMC Papers Mill is expected to commence in Y2024; future expansion in white top liner kraft & tissue
- Have plans for future expansion in 2027 with the installation of PM2
- JMC Papers is also considering entering the tissue paper market with dedicated machines and establishing our own brands in North America and South America
- JMC Papers has a distinct advantage when it comes to competing with larger paper mill conglomerates in terms of quality and technology
- The expertise and experience of our parent company in manufacturing paper machinery enable us to produce cutting-edge equipment that meets international standards
In an exclusive interview with The Pulp and Paper Times, Dr Yesha Patel, CEO- JMC Paper Tech USA LLC, shares her thoughts on several topics, including setting up a new paper mill in North America, waste paper crisis, paper prices, and demand drop. She also discusses JMC Paper Tech's future growth strategy, expansion and potential for new products. Here is the whole interview she gave.
The Pulp and Paper Times | June 2023:
Q: Please give us a brief introduction of JMC Group.
JMC is a leading conglomerate in the pulp and paper industry, consisting of three main entities: JMC Paper Tech Pvt Ltd, JMC Paper Tech USA LLC, and JMC Papers, LLC. JMC Paper Tech Pvt Ltd, established in 2002, is our Indian-based parent company, specializing in the design, manufacturing, and installation of state-of-the-art paper machines and equipment on EPC(Turnkey) basis. Over the last 2 decades, JMC Paper Tech Pvt Ltd has established a workshop area of 10,000 sq.meters. and has plans to expand this area up to 15,000 sq.meters. by 2024 and 25,000 sq.meters by 2026. JMC Paper Tech USA LLC is a subsidiary of JMC Paper Tech Pvt Ltd, established in 2022 to expand our operations and cater to the growing demand for paper machinery in the North & South American markets.As the most recently established venture, JMC Papers, LLC is our associates' company, focused on establishing and operating paper mills North & South America since early 2023.
Q: Being a prominent Paper Machine manufacturer in India, What primary reasons, in your opinion, led JMC to decide to establish a paper mill abroad?
There were several primary reasons that led JMC to decide to establish a paper mill abroad. Firstly, expanding our operations globally allows us to tap into new markets and diversify our customer base. It reduces our dependency on a single market and provides stability in terms of revenue generation.
Secondly, setting up a paper mill abroad enables us to cater to the specific needs and preferences of customers in different regions. By being present locally, we can better understand the market dynamics, customer requirements, and regulatory environment, allowing us to showcase our machinery products to provide tailored solutions to our customers.
Lastly, expanding internationally also helps us to leverage economies of scale and cost advantages. It allows us to optimize our supply chain, reduce transportation costs, and access a wider range of raw materials. These factors contribute to improved competitiveness and profitability.
Q: Please explain the product portfolio (Product Mix) of new paper mill, GSM, BF and Capacity with expected date of start-up of machine along with end use.
Our new paper mill will focus on the production of industrial-grade kraft liner. The mill will have a capacity to produce 150 tons per day of industrial grade container board as well as kraft liner. The GSM and BF specifications of the kraft liner will be in line with industry standards for industrial applications. The expected start-up date for the machine is April 2024, and we are confident in meeting this target.
The kraft liner produced by our mill will find extensive use in various industries, including packaging, shipping, and construction. Its excellent strength properties and durability make it ideal for manufacturing corrugated boxes, cartons, and other packaging materials. We have conducted thorough market research and identified a strong demand for such packaging grade kraft paper, and our mill is well-positioned to cater to this growing market need.
Additionally, we have plans for future expansion in 2027 with the installation of PM2, which will have a capacity of 350 TPD and will focus on manufacturing white top liner Kraft. We are also considering entering the tissue paper market with dedicated machines and establishing our own brands in North America and South America.
Q: The year 2023 presented a challenging business environment for paper mills reporting that demand remains down for their paper packaging, cutting into profits and leading them to reduce some production. Don't you think that current business environment may prove challenging for new paper mill especially when demand is on the lower side?
While it is true that the paper packaging industry faced challenges in 2023, we believe that our new paper mill is well-equipped to succeed in the current business environment. The demand for container board/kraft paper remains strong in North America, especially in the packaging sector. Kraft paper is the highest produced paper in the region, and its demand is expected to continue growing.
The North American market trends indicate an increasing shift towards sustainable packaging solutions, which bodes well for our industrial-grade kraft liner. As consumers and businesses prioritize eco-friendly packaging options, our kraft liner, made from 100% recycled fibers, aligns perfectly with these sustainability requirements. By offering high-quality, eco-friendly packaging solutions, we are confident in meeting the market demand and establishing a strong position for our new paper mill.
Q: How do you defend your investment in relation to other businesses who are constructing enormous capacities in the region when they claim that "bigger capacity is the key to sustainability"?
While larger capacities may be attractive to some, we believe that sustainability and long-term success are not solely dependent on capacity alone. Our investment strategy focuses on striking a balance between capacity optimization and market demand. We aim to achieve operational excellence by leveraging our expertise in paper machinery manufacturing and ensuring efficient production processes.
By maintaining a moderate capacity that aligns with market needs, we can be agile, responsive, and adaptable to changing market conditions. This approach allows us to optimize our resources, provide personalized customer service, and maintain a competitive edge in terms of quality, cost, and efficiency.
We have strategic plans to install a second paper machine with a capacity of 350 tons per day by 2027, demonstrating our commitment to growth. This phased expansion approach allows us to manage our investments effectively while maintaining a sustainable business model.
Q: Large paper mill conglomerates like International Paper, Westrock, Georgia-Pacific, and others manufacture high-quality paper in North America using cutting-edge technology. How may JMC Papers compete with them in terms of quality and technology?
Large paper mill conglomerates in North America indeed have significant resources and access to cutting-edge technology. However, JMC has always been committed to technological advancement and maintaining high-quality standards.JMC Papers has a distinct advantage when it comes to competing with larger paper mill conglomerates in terms of quality and technology. Our machinery is sourced from our parent company, JMC Paper Tech Pvt Ltd, which has a proven track record of delivering high-quality machines. The expertise and experience of our parent company in manufacturing paper machinery enable us to produce cutting-edge equipment that meets international standards. Moreover, we incorporate the latest technologies into our machines to offer precise control and automation, resulting in enhanced quality, efficiency, and productivity. By utilizing advanced technology and investing in research and development, we ensure that our paper machines are at the forefront of innovation and can compete with the offerings of larger conglomerates.
Additionally, our engineering team consists of highly skilled professionals who strive to innovate and optimize our equipment. We collaborate with technology partners and conduct regular technology upgrades to ensure that our products are on par with global standards. Our focus on customer satisfaction, personalized service, and cost competitiveness also sets us apart in the market.
Q: Post-COVID, There is a lot of price and supply fluctuation for recovered paper or OCC, which has evolved into a new "GOLD". How could a steady supply of raw materials be guaranteed? Please provide more details about your furnishings.
Ensuring a steady supply of raw materials is crucial for the success of any paper mill. In the case of our North American paper mill, we have taken measures to guarantee a reliable supply of raw materials, specifically OCC (Old Corrugated Containers). Texas, the location of our paper mill site, and surrounding states are home to several OCC suppliers, making it advantageous in terms of proximity and logistics.
Having multiple OCC suppliers within Texas and the surrounding states enables us to diversify our supply chain and minimize the risk of disruptions. Furthermore, the availability of OCC in the USA is generally robust, providing us with ample options for sourcing raw materials. By establishing strong connections with OCC suppliers and engaging in strategic negotiations, we can secure a steady supply of raw materials, ensuring uninterrupted production at our plant.
Q: Please provide further information about your marketing strategy, including how JMC Papers would sell its products and whether they would be sold locally or abroad. Do you think Branding is also equivalent to cutting-edge technology in the paper industry?
Our marketing strategy for JMC Papers involves selling our products primarily within the United States. The demand for packaging-grade kraft paper in the USA remains substantial, driven by various industries such as e-commerce, retail, and manufacturing. We are also in talks with several packaging units located close to the border, which are keen to purchase our entire supply. This proximity provides logistical advantages and allows us to cater to the local market efficiently.
Our sales team will work closely with customers to understand their specific requirements and provide tailored solutions. Additionally, we will participate in industry exhibitions, conferences, and trade shows to showcase our capabilities and connect with potential customers.
Branding is indeed essential in the paper industry, as it establishes credibility and builds customer trust. While cutting-edge technology is crucial for operational efficiency and product quality, branding creates a distinct identity and helps differentiate our products from competitors. At JMC, we understand the significance of both factors. We have built a strong reputation in the paper machine manufacturing industry through our core values of integrity, honesty, and consistency. This same commitment to excellence will be carried forward to our paper mill, establishing JMC Papers as a trusted and respected brand in the paper industry.
Q: Please shed some light on the technology which is to be used in new facility.
The new facility will incorporate the latest technology and equipment to ensure optimal efficiency and product quality. We have made substantial investments in advanced paper machine technology, including automation and digitization features. We are working closely with Haber Water, a renowned provider of AI solutions, to incorporate their AI into our production processes. This integration will provide real-time updates and data analytics to enhance efficiency, productivity, and quality control. These technologies will streamline production processes, reduce energy consumption, and enhance overall operational performance. Furthermore, we will utilize an ERP (Enterprise Resource Planning) software system to streamline our operations, from raw material procurement to inventory management and product distribution. Additionally, we are adopting sustainable practices and exploring environmentally friendly technologies to minimize the environmental impact of our operations. The integration of cutting-edge technology is a testament to our commitment to innovation and delivering value to our customers.

Web Title: JMC Papers Mill is expected to commence in Y2024; future expansion in white top liner Kraft & Tissue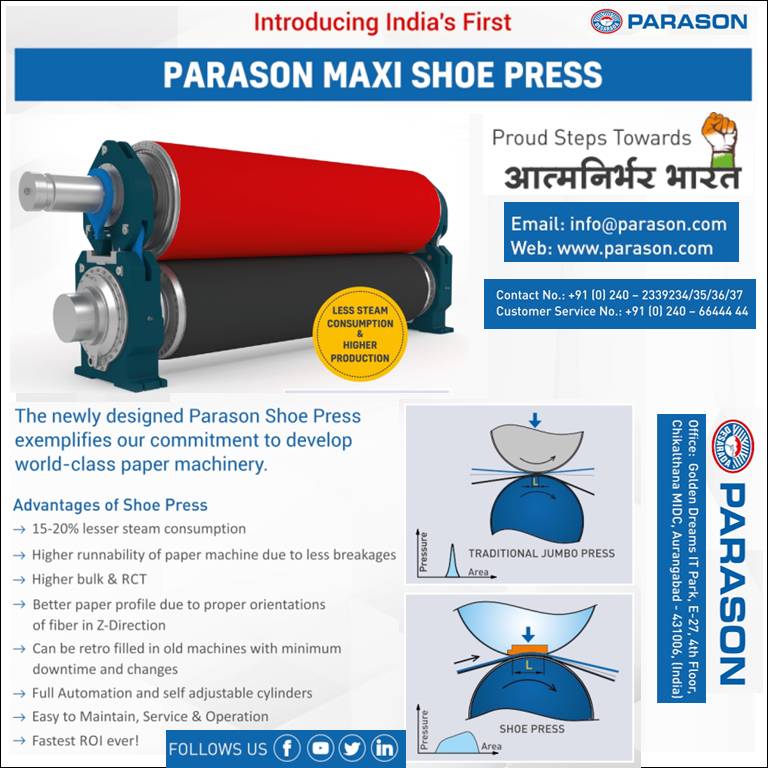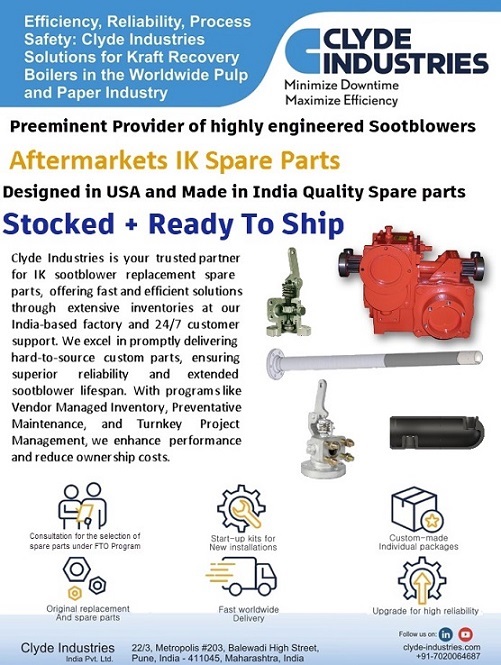 Next Stories