Peak enjoyed by paper mills is over and real challenges will be more scary in time to come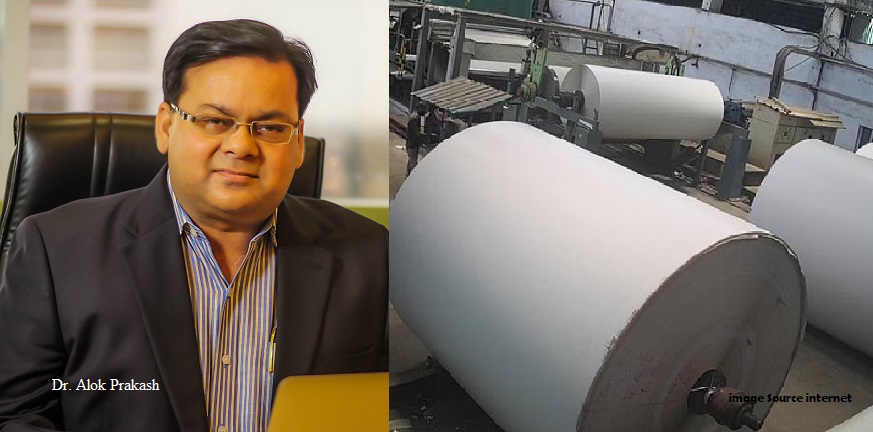 Peak enjoyed by paper mills is over and real challenges will be more scary in time to come
- The availability of cheaper paper products from mills in Indonesia, Taiwan, and Malaysia has also impacted the Indian market, as domestic products are relatively more expensive.
- Mills are compelled to implement combined shutdowns to stimulate demand in the market. Price reductions have been observed across all regions
- Mills in Gujarat face significant hurdles in both recycled duplex board and kraft paper segments due to sluggish order bookings from overseas markets
The article below is written by Dr. Alok Prakash is currently the Chief Executive Officer (CEO) of M/s Camerich Paper Pvt Ltd, a prominent company within the Ashapura Group located in Bhachau. The company's head office is situated in Ahmedabad, India, while its manufacturing mill operates in Morbi, Gujarat. Camerich Paper Pvt Ltd (CPPL) specializes in the production of eco-friendly packaging duplex boards, offering both grey and white options. Driven by Dr. Prakash's extensive expertise in the paper and packaging industry, CPPL has established itself as a leading player in the field. His innovative thinking and strategic vision have been instrumental in the company's growth and success, ensuring a steadfast commitment to delivering high-quality and sustainable packaging solutions to its valued customers. Views are personnel.
The Pulp and Paper Times | June 2023
Coated duplex board, a versatile type of paperboard with multiple layers and a glossy coated surface on one side for improved printing, has gained significant popularity. These boards are known for their strength, thickness, and water-resistant properties, making them a preferred choice in various industries. Coated duplex boards are commonly used in the manufacturing of pharmaceutical packaging, paper plates, shoe packaging, food packaging, and other products that require high-quality printability. The packaging sector extensively relies on coated duplex board papers, including grey back, white coated duplex board, and others.
The market for coated duplex board is primarily driven by the increasing demand for eco-friendly and biodegradable packaging solutions. As environmental concerns regarding plastic waste disposal grow, government regulations have gradually banned plastic packaging. This regulatory shift has further accelerated the market's growth rate. Additionally, factors such as rising urbanization, industrialization, and the rapid expansion of the e-commerce sector are expected to contribute to the growth of the coated duplex board market. The emphasis on hygiene standards and the attractive growth in the fast food and beverage segment will also fuel the demand for disposable packaging formats, thereby expanding the market's growth rate. The rising demand for high-quality cardboard boxes, coupled with the changing lifestyles and high disposable income of the population, will further contribute to the increased demand for coated duplex board products.
However, the growth rate of the duplex board market faces certain challenges. Growing environmental concerns and fluctuating prices of raw materials pose obstacles to market expansion. Additionally, the impact of the COVID-19 pandemic on the supply chain has been a major challenge for the market's growth. Furthermore, the high cost of coated duplex boards and the availability of alternative substitutes may impede the growth rate of the market.
The coated duplex board market can be segmented based on thickness type, product type, and end-user. Thickness types include up to 200 GSM, 201-400 GSM, 401-600 GSM, and above 600 GSM. The product types are categorized as kraft board and white board. The end-user segment includes food and beverages, pharmaceuticals, personal care and cosmetics, home care chemicals, and other industries.
In terms of geographical market dominance, the Asia-Pacific region is predicted to maintain a prominent position in the coated duplex board market compared to other regions worldwide. The increasing demand for biodegradable and environmentally friendly products in developing marketplaces, particularly in India and China, contributes to the region's growth. Additionally, Europe is expected to witness significant growth in the next five to six years due to the ban on plastic packaging within the region.
Several major players operate in the coated duplex board market in India. These include ITC, Century, JK, TNPL Khanna, Emami, N.R. Agrawal Industries, Camerich Paper, Divya Shakti Paper, Siddartha Paper, KD Pulp & Paper, Mehali Paper, and others. These companies play a crucial role in shaping the market landscape and meeting the demand for coated duplex board products.
According to statistics from the Indian Paper Manufacturers Association (IPMA) for the year 2021-22, the size of the India Coated Duplex Board Market is estimated to be 5.233 million tonnes. This includes 4.20 million tonnes of recycled duplex board and 1.033 million tonnes of virgin duplex board (excluding cupstock). The market is projected to grow at a compound annual growth rate (CAGR) of 7.10%, with the recycled segment growing at a rate of 6.45% and the virgin segment at 10.10%. The kraft paper market also exhibits significant potential, with a size of 7.223 million tonnes and a CAGR of 10.47%.
The duplex board business has witnessed substantial growth over the last decade. This growth can be attributed to changes in substrate choices, expansion into new markets, changing ownership dynamics, and government initiatives to ban plastic. The emphasis on sustainability and environmental issues continues to drive innovation in the paper and paperboard packaging industry, further stimulating market growth in India.
India's paper and paperboard packaging industry is thriving, catering to various end-user segments such as food and beverages, healthcare, personal care, and household care. The growth of the industry is fueled by factors such as increasing disposable income levels, rising consumer awareness, and the demand for processed food. The significant increase in organized retail, driven by the rapid rise of supermarkets and modern shopping centers, is expected to further boost the demand for paper packaging. Additionally, government measures, including the ban on specific single-use plastic products, are anticipated to drive the demand for paper packaging in the country.
Coated duplex boards find wide application in the production of corrugated boxes and packaging for food and beverage products such as juices, milk, and cereals. The market offers numerous grades of paperboard packaging, with folding cartons being the most common material used for making containers.
However, the current market conditions for coated duplex board and kraft paper indicate a slowdown. Surplus capacity in various clusters and declining demand pose challenges to the market. Mills in Gujarat face significant hurdles in both recycled duplex board and kraft paper segments due to sluggish order bookings from overseas markets, which were a critical factor in choosing the mill's location near a port. Moreover, overcapacity in the region contributes to price pressure among manufacturers.
The availability of cheaper paper products from mills in Indonesia, Taiwan, and Malaysia has also impacted the Indian market, as domestic products are relatively more expensive. Kraft mills are facing closures due to loan burdens, EMIs, and accumulating fixed expenses such as electricity bill, staff salaries, administrative expenses and maintenance costs.
Although waste paper prices have witnessed a drastic reduction, but the order flow from both domestic and overseas markets is insufficient to fill the available capacity, resulting in high inventory levels compared to the previous quarter. Consequently, mills are compelled to implement combined shutdowns to stimulate demand in the market. Price reductions have been observed across all regions.
In the short to mid-term forecast, it appears that the coated duplex board market, whether recycled or virgin, will face challenges in achieving stable demand. Conversely, other segments of the paper industry, such as Maplitho Paper, Creamwove Paper, and Copier paper, have experienced increasing demand, allowing mills operating in those segments to enjoy profitable phases. However, certain adjustments are expected to be necessary, and the situation is likely to normalize to pre-COVID levels.
This is also the high time for mills to start adopting various cost-reduction methods to compete in market. Because peak enjoyed by mills is over and real challenges will be more scary in time to come .

Web Title: Peak enjoyed by paper mills is over and real challenges will be more scary in time to come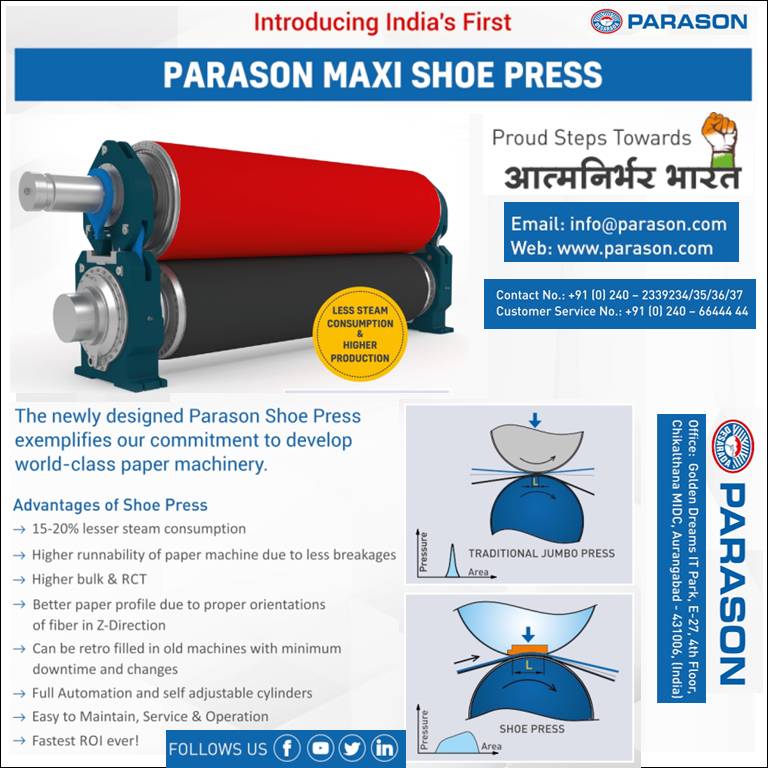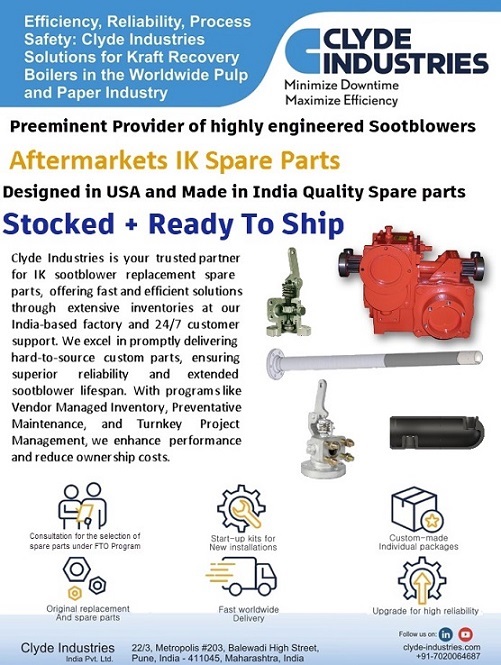 Next Stories