"Prices of paper might further increase by end of Q2-FY24 owing to boost in W&P paper demand due to NEP2020" Mr Naveet Jindal, Trident Group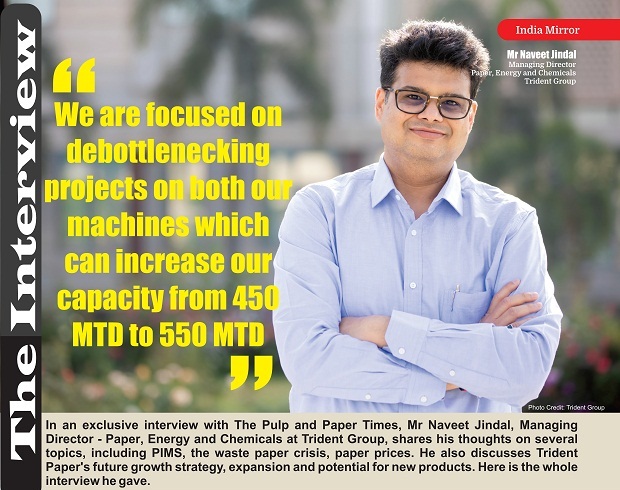 "Prices of paper might further increase by end of Q2-FY24 owing to boost in W&P paper demand due to NEP2020" Mr Naveet Jindal, Trident Group
-Our state-of-the-art machinery ensures to provide at par performance with wood-based copier
-We are focused on debottlenecking projects on both our machines which can increase our capacity from 450 MTD to 550 MTD
-Trident paper have a few notions to expand the business in the near future
-Robust demand anticipated in next 1 to 2 years with onset of NCF and government impetus on NEP implementation in 2024-25.
In an exclusive interview with The Pulp and Paper Times, Mr Naveet Jindal, Managing Director-Paper, Chemicals and Energy at Trident Group, shares his thoughts on several topics, including PIMS, the waste paper crisis, paper prices. He also discusses Trident Paper's future growth strategy, expansion and potential for new products. Here is the whole interview he gave.
Please note that the contents of this article pertain to our March-April edition and may not reflect current market conditions.
The Pulp and Paper Times | April 2023
Q: Please give us a brief introduction to Trident Group and its Paper Division
Trident Group is a leading Indian business conglomerate with diversified business interests, including paper, textiles, and energy. The Trident Paper Division is a significant player in the Indian paper industry offering a wide range of papers such as writing and printing, copier, specialty, and packaging papers. With state-of-the-art manufacturing facilities and a focus on sustainability, the company has become a trusted name in the paper fraternity. A while ago,notonly did they foray into stationery segment but also made the statements with the launch of India's first antibacterial notebooks, MY CHOICE.
Q : Trident Paper brand has been announced as the only SUPERBRAND 2021 in the Copier Paper segment in India. What is the USP of Trident's copier paper, which makes it different to other top brands in the copier segment? Do you think that agro residue-based copiers keep a 'quality edge' over wood-based copier?
The USP of Trident's copier paper is its ability to protect the environment while offering high-quality and consistent performance. The company uses agro-residue as a raw material for its copier paper, which not only reduces the dependence on wood-based raw materials but also contributes to environmental sustainability. This unique approach has helped Trident Paper emerge as a leading brand in the copier paper segment, and the Superbrand award is a testament to its success. Referred to as "THE GOOD PAPER", the paper empowers over 1 lakh farmers every year and saves over 5,000 trees every day. We are good to customers, good to the environment and good to society.
Agro residue-based copier paper has a slightly lower edge over wood-based copier paper, however, our state-of-the-art machinery ensures to provide at par performance with wood-based copier.
Q: In recent months, Paper manufacturers increased the price of Writing and Printing as well copier paper segments. Till March 2023, prices were increasing. What is your anticipation behind this increase of price, how do you see the next 3 to 6 months for Copier and WPP as price-wise?
The increase in prices of writing and printing paper and copier paper is mainly due to the rise in input costs such as pulp, chemicals, and freight charges. The Covid-19 pandemic has disrupted the global supply chain, leading to a shortage of key raw materials and an increase in their prices. It is anticipated that the prices may remain stable for the next 3 months and might further increase by end of Q2FY24 owing to boost in W&P paper demand due to NEP2020. One of the key features of the new policy is the emphasis on local and regional languages, which can also lead to an increase in the demand for paper in the form of textbooks, reference materials, and other educational materials. Moreover, the policy proposes a significant increase in the Gross Enrollment Ratio (GER) in higher education, which can lead to an increase in the demand for paper in the form of study materials. The promotion of research and development in various fields can also lead to an increase in the demand for speciality papers, which are used for printing and publishing academic books and journals.
Q: New pulping capacities have been added in countries like Brazil, Uruguay and China, which will become operational in this calendar year. With softness in global demand, global pulp prices will definitely come down. This may lead to an increase in imports into India. May we see the adverse impact of cheap Imports on domestic pricing in coming months? Please explain
We have already started to see impact in Packaging Board and Art paper segment pricing due to various global factors. International prices are quoting lower putting pressure on domestic mills. Writing printing however had been stable as of now but the pulping capacities increase on global level cheaper imports dumping can be a possibility however not much threat to writing and printing segment is expected due to robust demand anticipated in next 1 to 2 years with onset of NCF and government impetus on NEP implementation in 2024-25.

Q: What does one understand about Environmental, Social & Governance (ESG) in the Paper and Packaging industry? Why it is becoming more demanding nowadays? Is it a step towards the GREEN company?
In the paper and packaging industry, ESG considerations have become more important in recent years due to growing concerns about sustainability and environmental impact. The paper and packaging industry is one of the largest consumers of natural resources and generates significant amounts of waste and pollution. As a result, the industry has faced growing scrutiny from consumers, investors, and regulators regarding its environmental impact.
ESG considerations are becoming more demanding as stakeholders expect companies to take more responsibility for their impact on the environment and society.
It is indeed a step towards becoming a "green" company, which is increasingly becoming an essential requirement for sustainable business practices as it can improve their reputation, attract investors, and reduce regulatory risks

Q: Govt. of India has brought the Import of Paper under Paper Import Monitoring System (PIMS) from 1st October. This order shall be applicable to a range of paper products, such as newsprint, handmade paper, wallpaper base, duplicating paper, coated paper, uncoated paper, and other grades of paper. Do you think this step will bring relief to domestic paper manufacturers? Trade Bodies are calling PIMS a 'CURB' on imports and is not providing level playing field. What is your stand on this?
The Paper Import Monitoring System (PIMS) aims to regulate the import of paper products to prevent the dumping of low-quality and cheap paper products in the Indian market. The move is expected to bring relief to domestic paper manufacturers who have been struggling to compete with the cheap imports. While it is important to protect the interests of domestic manufacturers, it is equally important to ensure a level playing field for all players in the market. A balanced approach that promotes fair competition and protects the interests of all stakeholders would be the ideal solution.
Q: Recently, Ahmedabad Municipal Corporation banned paper cups in the city as paper cups have a thin coating of plastic and cannot be torn. Do you think that Single Use Plastic (SUP) ban really benefited the paper industry or we lack in providing suitable barrier coating solution collectively? Also, does SUP spike the price of paper?
The ban on single-use plastic has created a significant opportunity for the paper industry to offer sustainable alternatives. However, the ban on paper cups in Ahmedabad highlights the need for suitable barrier coating solutions that can replace the thin plastic coating used in paper cups. While some progress has been made in developing bio-based and compostable coatings, more research and innovation are needed to find suitable alternatives that are cost-effective and offer the same level of functionality as plastic. The paper industry has a crucial role to play in addressing the issue of plastic pollution, and it must work towards finding sustainable solutions that can replace single-use plastic without compromising on quality and performance.
Q: The EU Commission has issued the proposal for the new legislation on the Export of waste (Proposal for regulation by the European Parliament and the Council on shipments of waste), which will also rule the exports of waste paper. This proposed regulation is expected to be implemented by 2025 with certain trade obstacles. It will restrict waste paper export to other countries. The situation is going to be worse. Recycled paper mills are heavily dependent on imported OCC. What solution do you think about this problem?
The proposal for regulation by the European Parliament and the Council on shipments of waste is likely to have a significant impact on the global paper industry, particularly for manufacturers that heavily rely on imported waste paper for production. To address this issue, manufacturers may need to explore alternative sources of raw materials or invest in technologies that permit the use of alternative materials, such as agro residue-based or non-wood pulp. They could also focus on recycling and waste reduction initiatives to reduce their reliance on imported waste paper.
Q: Recently, CPPRI claimed that they had developed the technology to make paper from Rice Straw, and are soon to establish a demo pulp mill in north India. How do you take this development? Being an Agro waste-based manufacturer, can rice straw pulp be a game changer option especially when raw material prices are on fire?
The development of technology to make paper from rice straw is a positive development for the paper industry, especially in India, where rice straw is abundantly available as an agricultural waste. The use of agro residue-based raw materials can help reduce the industry's dependence on wood pulp and imported waste paper, which can be expensive and difficult to obtain. This development can also help boost rural employment by creating opportunities for farmers to sell their agricultural waste as a raw material to paper manufacturers. This will also reduce dependence on wheat straw/bagasse which is presently the key raw material for agro based manufacturers and will certainly help to reduce raw material price volatility in market.
Q: Recently, 'Unbleached Natural Shade Brown Copier' is introduced in the market made with 100% recycled pulp. Do you think it could be a revolutionary product or a threat to white Copier? How long will this new trend survive?
The introduction of the 'Unbleached Natural Shade Brown Copier' made with 100% recycled pulp is a positive step towards promoting sustainable and eco-friendly paper products. While it may not replace white copier paper entirely, it could cater to the growing demand for environmentally conscious paper products.
Q: Please Trident's expansion plan on any of paper machines (PM) and its planning to enhance the product portfolio
We are focused on debottlenecking projects on both our machines which can increase our capacity from 450 MTD to 550 MTD in next one year. The project includes upgrading of PM1 & PM2 and strengthening our Recovery & ETP areas to meet environment norms at all times.
Q: Due to Digitalization, Newsprint and writing & printing papers segments are gradually losing out to the packaging paper segment, Can we assume a massive shift of capacities to packaging paper or more capex plans in years to come in paper industry? Please describe.
The shift towards packaging paper is a global trend that is likely to continue, driven by the growth in e-commerce and online shopping. This could lead to a shift in capacities towards packaging paper and manufacturers may invest in more capex plans to meet the growing demand. However, the demand for writing and printing papers and newsprint is unlikely to disappear entirely as there will always be a need for printed materials in various industries.
Q: Trident was intended to step in virgin-based Kraft Paper manufacturing exploring a completely different domain. Please shed some light on this.
Presently that project is kept on hold as we are totally focused on our machine upgradation project in short term, but we have a few notions to expand the business in the near future.
Q: What is Trident 's prediction for the overall growth of the Indian Paper industry in the next five years, segment-wise?
The Indian paper industry is expected to grow steadily in the next five years driven by factors such as growing literacy rates, NEP2020, and increased demand for eco-friendly and sustainable paper products. The packaging paper segment is likely to continue to dominate the market but the demand for writing and printing papers and specialty papers, such as tissue paper and paperboard, is also expected to grow. However, the industry may face challenges/volatility in terms of raw material availability and rising production costs.

Web Title: "Prices of paper might further increase by end of Q2-FY24 owing to boost in W&P paper demand due to NEP2020" Mr Naveet Jindal, Trident Group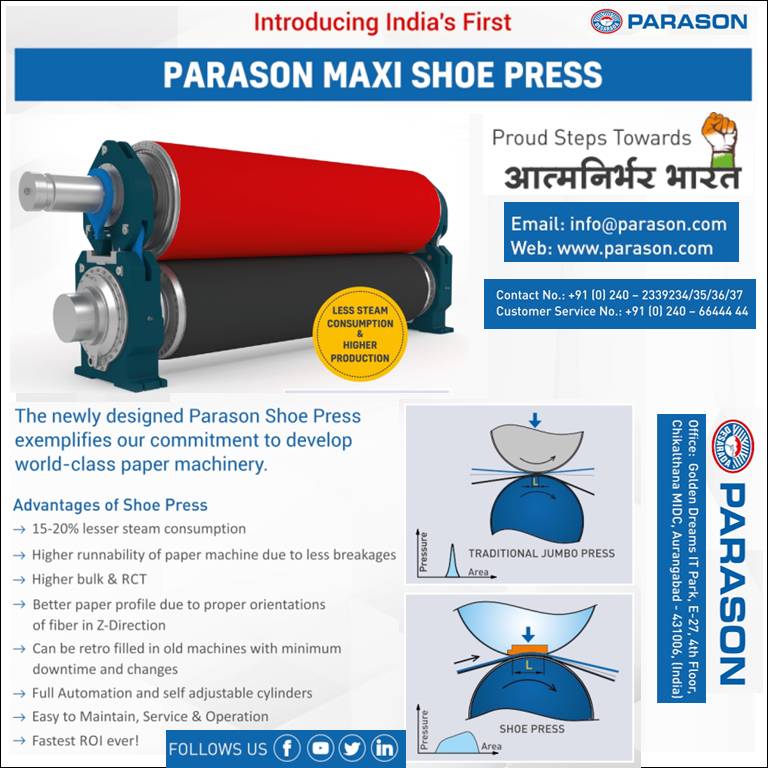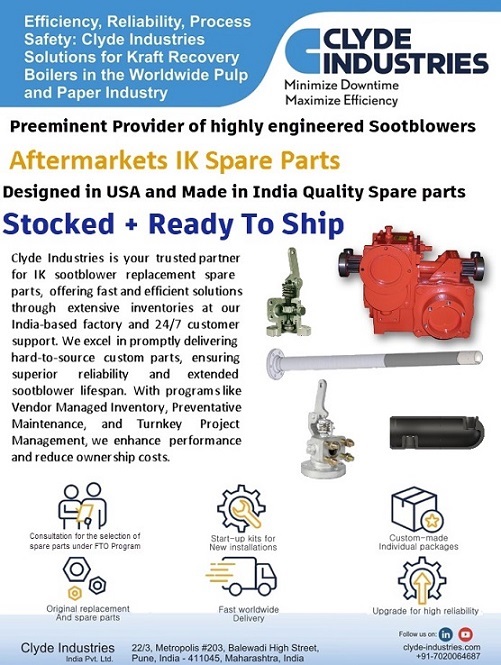 Next Stories