Seshasayee Paper: CAPEX plans for packaging and VAPs; increasing usage of bio-fuel to lessen dependence on coal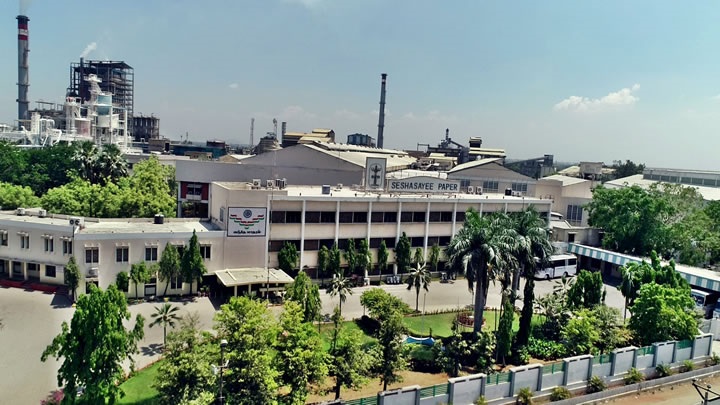 Seshasayee Paper: CAPEX plans for packaging and VAPs; increasing usage of bio-fuel to lessen dependence on coal
- The comparative Profit after tax stood at Rs 103 crores in the FY 2021-22 as against Rs 100 crores in the previous year.
- FY 2022-23 has begun with strong demand resulting in good order inflow, both for printing and writing grades and board segments.
Erode | 24th July 2022 | The Pulp and Paper Times:
Pulp and paper will continue to play a major role in the world. Despite the changes that have occurred because of technological advancements, this is an industry that has thrived and will continue to do so in future. In fact, the digital revolution of recent years has led to an expansion in the pulp and paper industry. As the world continues to evolve, so will the industry.
Seshasayee Paper and Boards Limited (SPB), an Integrated Pulp, Paper and Paper board Mill, and the flagship company belonging to Writing and Printing paper manufacturing in India finds the 1st quarter of FY 2022-23, turned out to be positive with continued higher pent-up demand for printing and writing grade papers. Demand for Boards is expected to remain strong throughout the financial year. However, the global political situations, macro-economic indicators and global supply Chain constraints will have a strong bearing on the healthy order inflow, both from Domestic and Global Markets.
Gradually coming out of Covid-19 lockdowns and restrictions, SPB registered some key landmarks in FY 2021-22. SPB recorded highest ever annual production and sales at 2.12 lakh tonnes and 2.20 lakh tonnes respectively. Highest ever Total Income of Rs.1372 crores and highest ever annual exports at 57010 t representing over 25% of the volumes in the year.
Seshasayee Paper and Boards Limited (SPB) plans to prepare for investing in the packaging and value-added product sectors. "Capex plans are under discussion internally and it has not yet been finalized but certainly we are looking at projects where we can add some value to the paper that we make. We are also looking at projects that will add volume especially in the packaging segment. we are looking for some value addition products at Erode and some volume addition products in Tirunelveli" replied by Mr. N Gopalaratnam, Chairman, SPB, to a shareholder during 62nd Annual General Meeting of the Company.
Mr. Gopalaratnam says that, "certainly we will be addressing the need to step up our presence in packaging sector which will probably be addressed at the Tirunelvelli Plant. You will come to know as soon as we have made up our mind. There will be certainly CAPEX plans, addition of capacity, addition of products adding additional values also"
SPB is facing unprecedented increase in costs amidst the current global scenarios. The global supply chain, which was first hampered by Covid-19 pandemic, is now suffering from the consequences of the Russia- Ukraine war. The Oil prices have reached unprecedented levels. Coal prices are now at 3 times the pre-covid levels. Cost of most chemicals / other input materials have increased significantly.
On asking his views on Coal supply and consumption in SPB, he added, "20-25 years we have been importing coal; 100% of our coal from Indonesia, but then the last year or so the prices have shot up 3 times. Therefore with a view to curtail we have introduced a lot of biofuel in our units along with coal. So far in stages we have reduced our requirement of coal by 1/3rd. Further work will be done and we hope to step up this bio fuel well, we are far away from mines and we don't have a linkage with any mine, and we also don't have linkage for railways. Under these circumstances we find that the quality of coal from outside.. Though the price is high but the quality is also good, we will continue to do so."
When asked about the scaling up the export at SPB, he added, "we explore all other opportunities to scale up. Last year we did some 25% which is a substantially high amount, we can continue to do so as long as the market outside of India gives us a better price. At the same time I will have to protect my domestic market also, I just cannot exit my domestic market and put all my paper in export, just because in one year I get better realization from export. Export market in the past if you see out of 4 years in a row probably you make more money in export only in one year. Other 3 years you get better realization in domestic market. It is going to be very, very, very necessary that you have your foot well planted in the domestic market. That is our strategy, but we can step up and scale up exports if it is really warranted."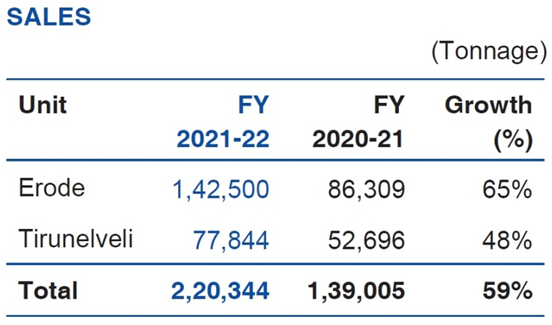 Due to the rise in global gas and coal prices, how we expect relative strength Indian paper mills in future. The fact the energy cost increases or you see European governments turning uncooperative and shutting operations…. No, sir, European mills are very strong, they are extremely strong in raw material base in terms of soft wood. And they are significantly good in the recovery rates from waste paper, meaning waste paper recovery rates are very high in Europe. These are their strengths. Over the last period of a year I think they have been reducing presence in the printing and writing market but they continue to be strong in the packaging grade. And I feel they will play a significant role in the future as well. Sure the energy costs are high, I suppose energy costs are not going to stay high at this level forever. And when energy costs are high, relatively energy costs in Asia are also going to be high and for North America is also going to be high. Considering all this Europe can hold its own in terms of its presence and its contribution to the paper industry of the world.
The comparative Profit after tax stood at Rs 103 crores in the FY 2021-22 as against Rs 100 crores in the previous year
Some of the key initiatives are:
1. Increasing the product range with capabilities to manufacture single-layer and multi-layer boards.
2. Upgradation of key equipment to improve the quality of paper and the efficiency of operations besides augmenting production capacity
3. Increasing the proportion of green power, by increased usage Bio-fuel in place of Coal.
OPERATIONS
Gradually coming out of Covid-19 lockdown and restrictions, SPB had registered the following key landmarks during the FY 2021-22.
Highest ever annual production at 2.12 lakh tonnes.
Highest ever annual sales at 2.20 lakh tonnes.
Highest ever Total Income at INR 1371.58 crores.
Highest ever annual Exports at 57010 tonnes (representing over 25% of FY 2021-22 volumes).
During the FY 2021-22, the production at Unit : Erode was 1,41,707 tonnes of paper, as compared to 1,12,489 tonnes, produced in the previous year. The production during the year included 11,025 tonnes of Pulp Board production. (Previous Year - 16,226 tonnes).
As part of the second phase of the project, SPB completed the upgradation works in Paper Machine - 2, Paper Machine - 4, Pulp Mill and Recovery Boiler during the Financial Year 2021-22. Completion of these projects helped the Company to ramp up production during FY 2021-22 and helped the Erode unit to achieve its highest ever annual production & sales, despite tough demand situation and shuts availed in machines for upgradation works under the project.
Unit : Tirunelveli produced 70,379 tonnes of Paper during the FY 2021-22, as compared to 57,649 tonnes, produced in the previous year. Production recorded was higher mainly due to significant increase in the volume of export orders during the FY 2021-22.
CURRENT YEAR (2022-23)
FY 2022-23 has begun with strong demand resulting in good order inflow, both for printing and writing grades and boards segments. Margins continue to be an area of concern, amidst unprecedented increase in the cost of all input materials.
In Unit : Erode, the Production during April 2022 was 13,051 tonnes, as compared to 10,683 tonnes, produced during April 2021. In Unit : Tirunelveli, the Production was 6,003 tonnes in April 2022, as against 6,003 tonnes in April 2021. The overall Production for the Company, for the month of April 2022, was 19,054 tonnes. Total Value of Production, during April 2022 amounted to INR 110.93 crores, compared to INR 77.75 crores during April 2021.
During April 2022, 1072 tonnes of paper, valued at INR 8.84 crores were exported.
On asking the questions about the discounted coal providing by Indonesia to its industry, Mr. Gopalaratnam said, "Indonesia has a policy of providing coal to domestic industry at discounted prices. The gap between prices on the imported coal in India with the domestic coal in India in Indonesia has increased over the last 3 years. This enables Indonesian paper mills to have significantly lower cost hence we would expect paper imports to Indonesia to increase significantly,"
"I think Indonesia has a significant presence in the pulp market. In Indonesia, in fact, huge plantations have been developed over a period of time and is known for some of the world class world size pulp mills in Indonesia. And they are very big and very active as exporters of pulp. At the moment they continue to be strong in their export market of pulp which is their traditional strength rather than paper. In India we do see some imports from Indonesia especially in the cut size that is the copier grades. But at the moment we are not seeing any huge volumes of paper coming to India but we continue to see a lot of pulp coming to India and therefore at the moment their paper presence does not seem to be a big competition to us" he concluded.

Web Title: Seshasayee Paper: CAPEX plans for packaging and VAPs; increasing usage of biofuel to lessen dependence on coal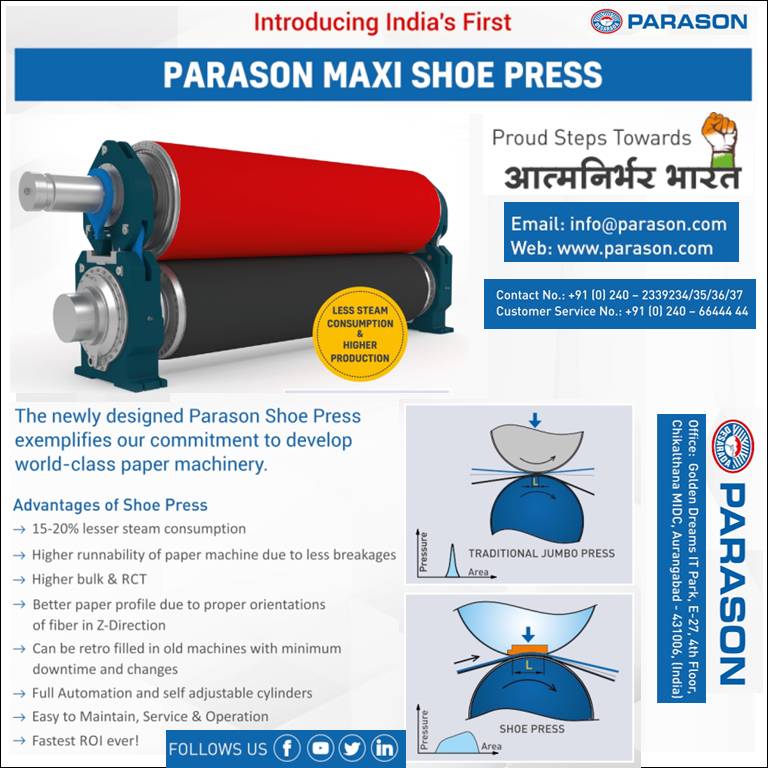 Next Stories