"CBL is also working on a technology to run the Boilers with Hydrogen"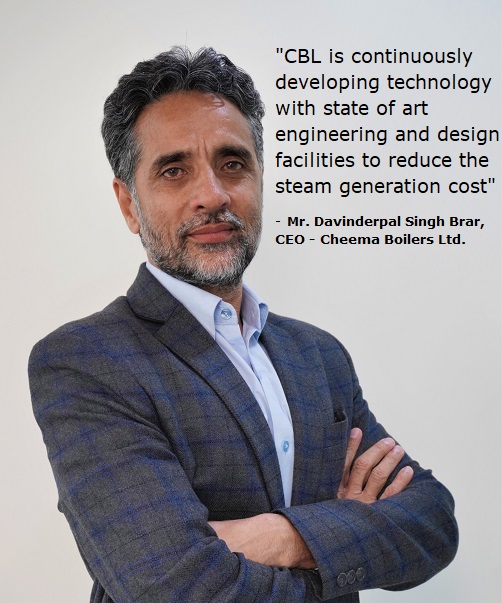 "Cheema Boilers is also working on a technology to run the Boilers with Hydrogen": Mr. Brar, CEO
Cheema Boilers Limited (CBL), which began in 1991 as a small boiler maker under the Cheema family name, has developed into a leading global system supplier for industrial boilers in recent decades. CBL is one of the World's premier engineering solutions company manufacturing boilers for all industries. CBL offer you tailor-made service concepts to increase efficiency, availability, and reliability.
The CEO of Cheema Boilers Ltd., Mr. Davinderpal Singh Brar, recently spoke with The Pulp and Paper Times. Mr. Brar talks about the necessity for energy saving, possible solutions, and recent advancements in the boilers sector. This is the complete interview:
- CBL has recently developed highly efficient Vibratory Grate Bale Fired Boiler to produce energy as well as reducing the carbon footprints compare to conventional fuel such as coal fired Boilers
February 2022 | The Pulp and Paper Times:
In energy conservation, where do Indian Paper mills stand in the global scenario? What problems in energy conservation does CBL see in Indian Paper Mills and what solution does CBL provide to meet the requirement?
The Indian paper industry accounts for about 2%of world's production of paper/paperboard and projected to grow to 5% in future. India's paper and paperboards market to grow at 6-7% pa. This sector is an energy intensive industry having consumption of steam per ton of paper production is about 10-14 tonand the power consumption is about 1200-1400 KWH. It's around 87 lac kcal of energy per ton of paper production.
Going forward poses various challenges – raw material availability, energy cost, capital expenditure, green technologies and quality improvement to compete in Global market. With increasing Energy prices, the efficient use of energy, its conservation and renewable resources are the best option to meet the increasing energy demand.
CBL is contributing in meeting India's energy goals and have installed more than 150 nos.power and heat/steam production units worldwide in paper industry.
In terms of energy conservation, we are promoting efficient use of energy with our highly efficient Boilers and also emphasizing to install Boilers running with renewable and waste fuels.
Government is committed to replacing the traditional input fuels used in the industrial boilers by PNG Gas. How CBL is ready to meet the requirement of PNG compatible boilers? It is possible to convert the existing boilers (Coal based, FO Fired or Straw based and others) into PNG-compatible boilers?
CBL has design and well-equipped facilities to manufacture and supply Oil & Gas fired Boilers. We are associated with vendors qualifying to most stringent Global standards for procurements of burner system required to fire said fuels. We have grown our business in this sector not only in India but at Global level as well with having more than 60 nos. installation already running.
Besides, energy density of coal based or bio-mass-based Boilers is low compare to oil & gas fired Boilers and are designed considering ash characteristics of fuels. These types of Boilers generally have large heat surface area and volume. However, oil & gas fired Boilers are designed with entirely different configurations, hence, existing coal based/straw based Boilers are not compatible to convert to PNG fired Boilers. Though, combination of both fuels could be explored in some cases.
Furthermore, CBL is also working on a Technology to run the Boilers with Hydrogen.
Water is a vital element in steam generation. There is a variety of ground and surface water available across India which requires pre-treatment before feeding to the boiler. In this case, do you provide any kind of customization in boiler, training which makes operation optimize according to the nature of input water?
All types of Boilers are operated with treated water having controlled set of ranges irrespective to source of availability. We offer water treatment plants like RO/DM treatment system, Softeners etc. to meet required parameters.
What global trends do you see in the context of energy generation? As the paper industry is a high carbon industry and the industry is being forced to reduce energy consumption to 50% by 2030 globally. In this context, How CBL is ready to reduce the energy requirement?
Solar and wind energy gaining the share in energy generation in India, however, industry requires more reliable sources of energy and the renewable energy are the viable solution to meet industrial energy requirements.
CBL is continuously developing technology with state of art engineering and design facilities to reduce the steam generation cost. CBL has recently developed highly efficient Vibratory Grate Bale Fired Boiler to produce energy as well as reducing the carbon footprints compare to conventional fuel such as coal fired Boilers. It runs on agro-based paddy straw fuel which is abundantly and cheaply available in India. Apart from this, CBL has technology to feed waste of paper plant to generate energy.
Can Paper Industry use hot air instead of steam in various processes of paper-making completely or majorly? In this case, can a paper industry see low carbon in making of per ton of paper? What problems do you see in this assumption?
Steam is a cheaper, reliable and safe heat conveying medium which can carry high amount of heat/energy at different set of pressure and temperatures to meet Industrial heating and power requirement. Air carry low heat content compare to water and steam and more energy is required to handle it. It is also not possible to generate power with air. Further clarity and feasibility needs to be explored to conclude this aspect.
Non-renewable energy resources such as fossil fuel, coal & gas are limited in nature and if they deplete, will not be replenished in our lifetimes. In this case, renewable energy plays an important role in energy generation. in this case, what energy generation solution based on renewable energy such as solar energy, CBL provides?
We have seen coal being as main energy resources to produce industrial as well as commercial energy in recent decades but the status quo is changing with a quicker pace than expected due to government action and new policies on climate change. Accordingly, CBL is also working to meet industrial energy requirements in India energy transition phase. CBL has recently developed new technologies such as Vibratory grate, and also have other Boiler like Reciprocating/pulsating grates type which is the ultimate solution to fire typical biomass fuels efficiently. Simultaneously, CBL has solution to generate energy from municipal waste.
Energy generation is getting costly in Paper-making due to meeting the regulatory compliances, what are the various ways by which, the cost of the energy generation can be reduced significantly in the tune of compliances?
India Government has set target of net zero carbon emissions by 2070 at global forum.
Government agency has set stringent pollution emission norms for industry to follow which ultimately has increased energy generation cost in terms of capital expenditure and operation cost etc. However, Government is also promoting industries to save carbon footprints and issuing tradable energy certificates on saving energy and carbon footprints under PAT scheme assigned in India energy national mission. In addition, Government initiatives such as make in India, National Manufacturing Policy, promotion of renewables and clean fuel usage are also beneficial for industrial sector.
What are the various boilers CBL provides to the paper-making industry? How does CBL differentiate its various boilers in the context of various process applications? Please provide an example.
Boilers are selected based on type of fuels available with clients. With conventional fuels such as coal, CBL generally supply AFBC fired Boilers. AFBC stands for Atomized Fluidized Bed Combustion. These Boilers are highly efficient and has an efficiency of around 80-85% based on fuel sources available and works with mainly cleaned fuels. Besides, CBL has installed vibratory grate (latest technology), Stoker fired, and Oil & gas fired Boilers in paper industry. CBL has installed 2 nos. Rice husk fired AFBC Boilers having capacity of 90TPH & 50TPH and 1 no. Vibratory grate paddy straw bale fired Boilers in paper mill located in ShriMuktsar Sahib, Punjab.
What new energy projects or developments CBL is working on? What attracted CBL to initiate this kind of development? How this development will be beneficial for the industry?
As already mentioned above, CBL has recently developed Vibratory grate fired Boilers especially designed to fire paddy straw bales. Paddy straw is waste product of paddy grown all over India and it is burnt in field by farmers in uncontrolled conditions. It releases gases such carbon dioxide which contributes in climate change and carbon monoxide which is a hazardous gas and harmful for living species. Paddy straw in bale forms is burnt in our Boiler efficiently to generate Energy for Industrial needs. Other benefits of this Boiler– Waste to energy, lesser carbon footprints, Monetarily beneficial both for farmers and industry for burning waste,Boiler Ash contains silica and Potash content which can be utilized in construction sector and as manure in fields respectively, Promote good soil quality by not burning paddy straw in field, environmental benefits etc.
What market size of heat & steam generation equipment do you see in India and Globally? What market growth do see in the next 10 years in this equipment?
Global Industrial Boiler market size was valued at USD 14.20 Billion in 2020 and is projected to reach USD 21.88 Billion by 2028, growing at a CAGR of 5.66% from 2021 to 2028.In contrast, the Asia Pacific Industrial Boiler market is projected to grow at highest CAGR of 6.6% during the forecast period.
The rising demand for industrial Boilers from the food & Beverage industry is the crucial aspect of the rise in market revenue of Industrial Boilers. Based on product, the market is bifurcated into fire-tube, water-tube and hybrid. Among these, the fire-tube segment is expected to dominate the market in the coming future as per analysis in terms of quantity as it can be used for a wide range of industrial applications, providing higher efficiency, easy operation and compact design.
India process Boiler and heating equipment market stood at USD 146 million in 2020 and is projected to grow at a CAGR of around 6% to surpass $194 million by 2025. During the said tenure, various government initiatives such as make in India, National Manufacturing Policy, promotion of renewables and clean fuel usage are further anticipated to spur demand for process Boilers and heating equipment across the country during forecast period over the next 10 years.
CBL holds various recognized strategic technology partners worldwide. What values are reflected in your products due to the association of these technology partners?
In view of the long term rising energy demand and related environmental concerns, the industry is destined to head towards alternate and more efficient fuel options.
Foreseeing the future, CBL is in fact steaming ahead to upgrade itself technologically to meet these challenges. With the said vision, we have got into several strategic partnerships.
Among them, one of the most promising being with CNIM-Martin (A French-German Collaboration) for the firing of municipal waste in their specifically designed Horizontal Grate which holds enormous potential in times to come.
Also, we are associated with Nu-way (Enertech Group – UK) for promotion of their diverse array of highly durable burner range qualifying to the most stringent global standards. So, apart from the standard Gas and Liquid fuels, the tie up gives an additional edge to deal with varying/complex fuel combinations with Biogas, PNG, Hydrogenetc along with Multi-firing compatibility.


Web Title: CBL is also working on a technology to run the Boilers with Hydrogen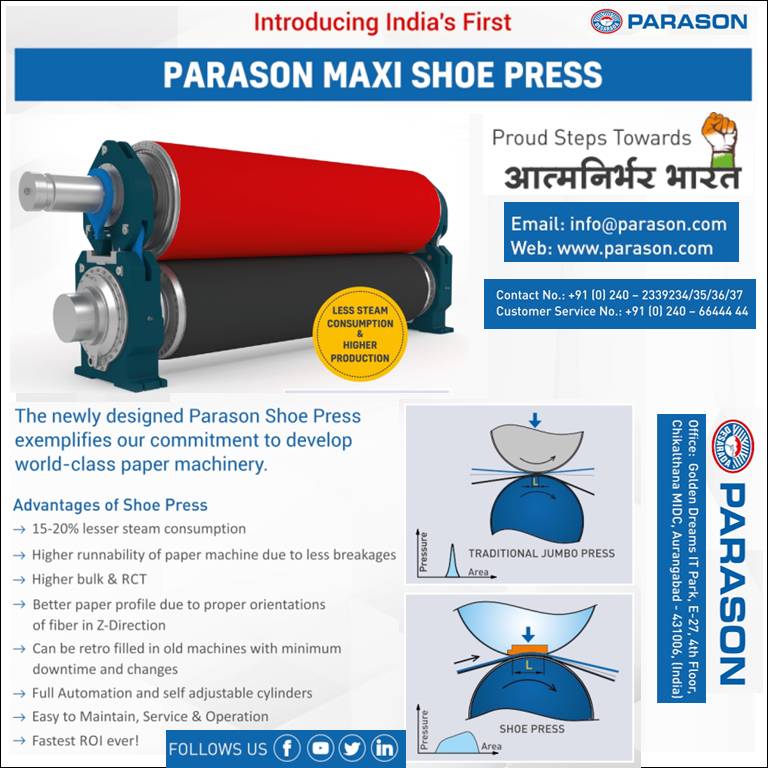 More News From industries-allied
Next Stories