Orders of the new paper machine from China boost up in 2020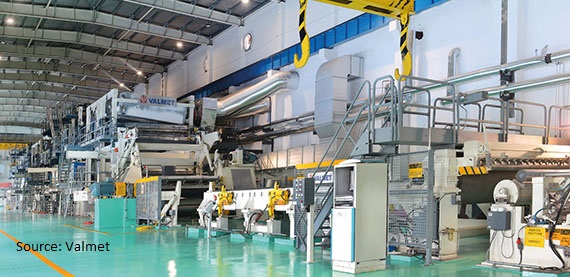 Orders of the new paper machine from China boost up in 2020
New Delhi | 24 May 2021 | The Pulp and Paper Times:
The COVID-19 pandemic changed China's people way of life, during the outbreak, online sales increased. It is clear that the increased consumption of paper, board and tissue is brought on by changes in awareness concerning hygiene.
In view of the ban on import of waste paper to China, Increasing in-house consumption of paper, Chinese paper manufacturers have geared up and opening up their wings for setting up paper and pulp manufacturing facilities within china and rest of the world.
Valmet's Paper business line also continued its consistently excellent performance, receiving multiple major orders worldwide. The Chinese market was especially active, with several pulp, tissue and board technology orders.
"Investment in new production capacity decreased in the first half of 2020 due to the cumulative effects of overcapacity, heated competition and the COVID-19 outbreak. The top players in the industry managed to boost profits during pandemic thanks to advantages of scale, brand effects, developed sales pipelines and varied product portfolios," says Mr. Zhenlei Cao, President of the China Technical Association of Paper Industry (CTAPI).
Dr. Toralf Haag, President and CEO, Voith said in the annual report, In Asia in particular we succeeded in generating a satisfactory rise in sales. The fact that China had to a great extent come out of the lockdown before the end of April already and economic activity there picked up pace again earlier than in other regions contributed to this development.
Valmet annual report of 2020 says that, In 2020, Valmet's Paper business line received multiple major orders worldwide, especially from China. The orders included a fine paper making line including stock preparation and an extensive scope of automation to Asia Symbol (Guangdong) Paper in XinHui, China and Sun Paper in Beihai, China, as well as a new OptiConcept M container board making line with an extensive automation package to Shanying Paper, Guangdong at its Zhaoqing mill in China.
"After average developments with a normal level of activity over the first half of our 2019-20 fiscal year, the paper machine market collapsed in the second half of the fiscal year as a consequence of the global spread of the pandemic: with the exception of China, whose economy started to recover earlier and more quickly than other regions, investment decisions for the new machines and major rebuilds were put on hold around the world. Paper production, which is decisive for the demand of our consumable and services, was in decline in contrast to the development expected by industry analysts prior to the crisis. Production of graphic and specialty papers dropped particularly sharply in the wake of the lockdown. In the case of board and packaging grades, the increase in online decrease in online business made up for the decrease in industrial demand. The tissue segment benefited from the rise in home demand; at the same time, demand in the away-from-home segment fell. In addition, our customers' production sites were often not accessible for our service staff on account of measures aimed at combating the pandemic such as contact and travel restrictions," Voith Group's annual report for FY 19-20 said.

Andritz report for FY 2020 says that, In the Pulp & Paper business area, the Covid-19 related sharp increase in worldwide demand for nonwovens to produce hygiene articles had a very positive effect on development of the order intake.
It is thus one of the Andritz group's main objectives to continue extending its worldwide presence in order to utilize growth potential, particularly in the emerging economies of South America and Asia, while at the same time being close to its customers in order to offer the best possible and prompt service.

Voith Group's Paper division was the only group division to record an increase in orders received (+8%), likewise buoyed by acquisitions. But even in strictly organic terms, Voith Paper saw comparatively stable developments on the back of good business with China. This allowed Voith Paper to contribute 42% to the Group's orders received.

Voith report further stated that Orders received in the project business were dominated by new lines and rebuilds for the production of board and packaging paper. Voith received another extensive order in the field of board and packaging in Asia, we signed a contract with a long-standing customer on the delivery of two new paper machines.
"For the paper market in the 2020-21 fiscal year, we anticipate declining investment in new lines and major rebuilds and increasing competition among manufacturers on account of the ongoing uncertainty. While paper production will probably grow slightly but remain under the pre-crisis level, demand for consumables and service offerings will also remain subdued. The trend away from graphic papers and towards board, packaging paper and tissue will continue" report stated.
Valmet's Interim Review, January–March 2021 says that orders received increased in developed markets and decreased in emerging markets during Q1/2021. South America, China and Asia-Pacific together accounted for 32% of orders received. All in all, Valmet's net sales remained on the previous year's level, and Paper was the only business line with a net sales increase.
Web Title: Orders of the new paper machine from China boost up in 2020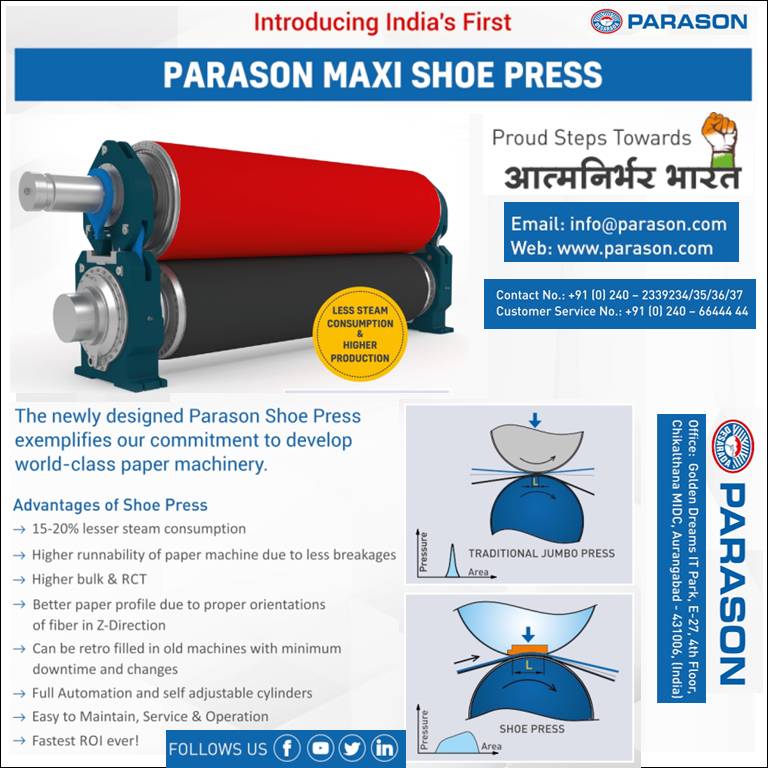 More News From industries-allied
Next Stories