Swaraj Pulp & Papers successfully began making High RCT Paper with an emphasis on the export market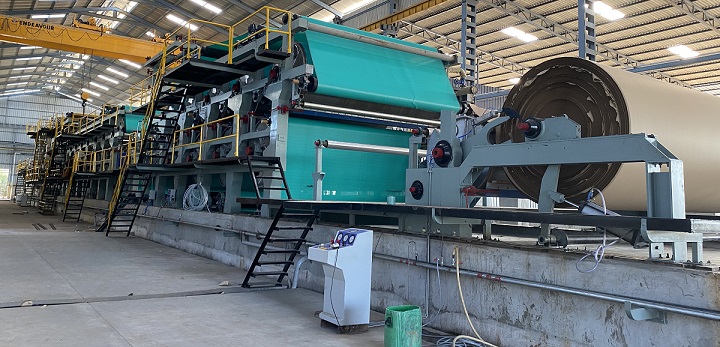 Swaraj Pulp & Papers successfully began making High RCT Paper with an emphasis on the export market
Vadodara | 7th February 2022 | The Pulp and Paper Times:
Kraft Paper has a very wide application in various industries such as food & beverages, cosmetics & personal care, consumer durables, automotive, building & construction. Out of all the sectors, it is the packaging and delivery sector where the demand for high-quality kraft paper is very high.
"Paper based packaging in the recent years has attained prominence, with the growing inclination toward modern packaging including visual appeal, brand identity, and long shelf life. The primary advantage of the paper is its ability to blend with a broad range of fibers that improve its characteristics and in turn expand its spectrum of applications. Furthermore, these papers are eco-friendly, offer improved packaging capabilities, along with easy stacking and recycling properties, which in turn is positively influencing the industry size." said Mr. Ramesh Patel, Chairman, Swaraj Pulp and Papers Pvt. Ltd. a newly established paper mill in Gujarat.
Situated at Vadodara, Gujarat, Swaraj Pulp and Papers Pvt. Ltd. (SPPPL) has successfully conducted its trial run and is gearing up for commercial production, Talking to The Pulp and Paper Times, Mr. Ramesh Patel, Chairman of SPPPL feels delighted to have connected with Indian paper industry. "We have reeled out the paper in one attempt and we are expected to go for commercial production from mid-February," he added.
SPPPL has an installed capacity of 200 TPD. "We will manufacture High RCT paper under 80 to 200 GSM range with 20 to 35 BF on double wire machine."
The new paper mill is also eyeing the export of its production to overseas destinations; Mr. Patel informs that "we have invested in technology to get the quality paper. We have set target to export our 40 percent production to various countries."
Mr. Ramesh Patel is also one of the core co-founders of Sayaji Paper Pvt. Ltd. and SSSPL have an additional advantage to explore Sayaji's promoter expertise in marketing and selling its paper products. SPPPL will use same dealer network of Sayaji Paper for sales, all across India.
SPPPL has a finished deckle of 4.25 meters, "we have bought wire part section from Micro Fab Industries while size press and onwards machinery is taken from D.S, Engineers, pulp mill has been supplied by Parason Machinery. For excellent formation and accuracy, we have imported two pressurised Headbox from "Xi'an make", China." Mr. Patel added.
Swaraj Paper is also planning to produce food-grade paper after some technical modifications in ETP.
On the question of a future expansion plan, Mr. Ramesh replied, "yes we have planned to get 300 TPD productions from this machine after some required modification, but right now we will stick to 200 TPD and any expansion will be based on the market condition"
Kraft Paper, to be produced by SPPPL would be suitable for the making of corrugated boxes, paper bags, and other packaging applications.
Kraft Paper is widely used in the packaging industry, by converting it into bags, pouches, wrapping papers, cans, cartons, corrugated sheets including others. Kraft pulp, which is used for the manufacturing of Kraft Paper, is comparatively darker than other wood pulps. Kraft Paper can be bleached to improve its brightness and is also used for the purpose of handling heavy-duty items.

Web Title: Swaraj Pulp and Papers successfully began making High RCT Paper with an emphasis on the export market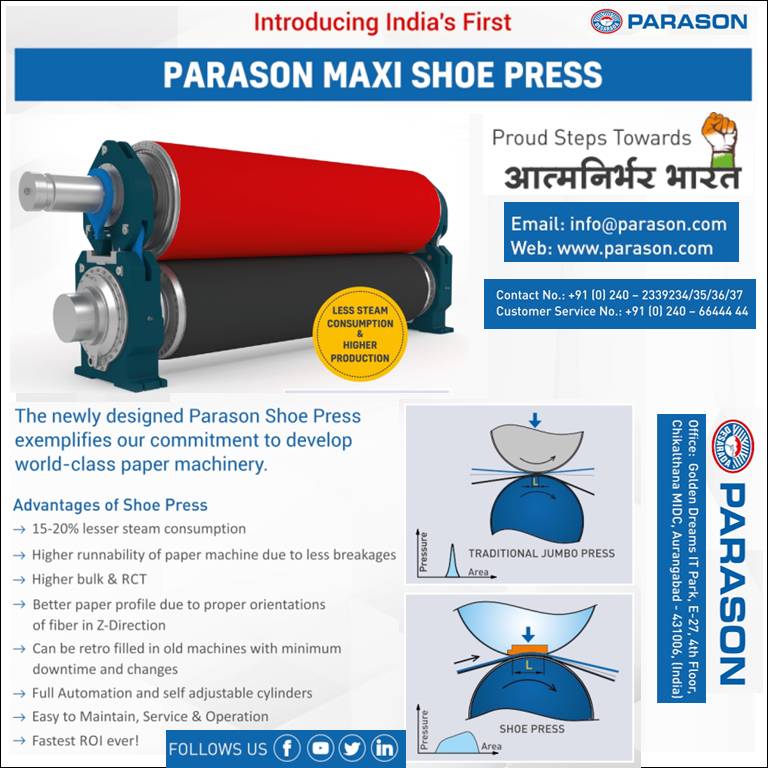 More News From new-projects-and-expansion
Next Stories