A new paper mill in High BF segment; Machine supplied by Saloni Paper Machines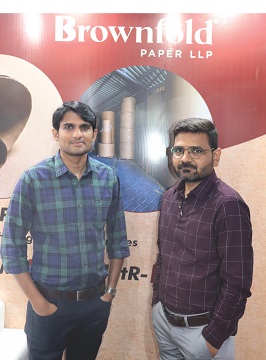 A new paper mill in High BF segment; Machine supplied by Saloni Paper Machines
- Paper mills is focussing on high BF paper manufacturing up to 45 BF
- Installed capacity around 250 to 300 TPD
Morbi | 13th May 2022 | The Pulp and Paper Times:
The Indian economy is growing and so is the Paper Packaging industry which requires Kraft paper majorly. As growth rides on increased industrial production and international trade, demands on package converters have become more intense and sophisticated. The packaging industry in India has been registering a constant growth rate giving a strong sustainability to Kraft Paper manufacturing.
The growth of the Kraft paper market in the Asia Pacific region is attributed to the increased demand for kraft papers in densely populated countries such as India and China, as it is increasingly used in the production of packages to ensure cost savings, sustainability, and safety of packaged products.
"Paper-based packaging in recent years has attained prominence, with the growing inclination toward modern packaging including visual appeal, brand identity, and long shelf life. Moreover, the industry has witnessed a significant upsurge in the demand for kraft paper from food & beverage industry on account of its packaging attributes for various eating food items. In addition, shifting consumer focus toward improved appearance of the end user product is further fueling the industry upsurge" said Mr. Chetan Kavar, Partner at new establish Paper Mills Brownfold Paper LLP
Talking to The Pulp and Paper Times, Mr. Kavar exclusively discloses its new paper mill's blueprint, and said, we are very glad to step into paper industry; our prime target is to make a significant space in High BF kraft paper segment. We have a total installed capacity of around 250 to 300 TPD, primarily focusing the manufacturing of Fluting media, premium quality Kraft test liner, and odour-free paper for food industry.
Situated at Shokada village, Morbi- Gujarat, Brownfold Paper is gearing up for trial production in July month. "Machine erection work is going in full swing at the site and we are expected to conduct first trial of paper production by the end of July 2022," Mr. Kavar informed.
Brownfold paper is aiming to manufacture paper in the range of 100 to 300 GSM, and with 20 to 35 BF which will be extended further upto 45 BF. The application of Paper will be suitable for corrugated boxes, paper bags and fluting media.
The new paper mill will have a finished deckle of 4.25 meters, while the speed is designed at 400 mpm.
Brownfold paper mill has engaged Saloni Paper Machines for setting up entire paper machine, "Time and accuracy are the key to success, thus we choose Saloni Paper Machines to deliver our quality products with high precision on time. They have the required set of skills in designing, project engineering, manufacturing & project management to take up the assignment of paper plant on turnkey basis" Mr. Kavar informed.
Saloni Paper Machines undertakes design & manufacturing along with the erection & commissioning of new Paper mill & paper machines.
The pulp mill section is being supplied by Parason Machinery. Brownfold paper has bought a Hot Disperser unit for providing spec-free paper to end users. "We are also installing a hot disperser of Cellwood for improvement of fiber properties, reduction of bacteria, and softening of dirt and tacky contaminants for a more efficient dispersing," Said Mr. Kavar.
The Paper mill is also focusing on odour free paper food-grade application, "we are installing ETP from Krofta Engineering" Mr. Kavar told.
Mr. Kavar further reveals that "we are planning to target export market also with our superior quality paper. We already received the few inquiries from Middle East and other countries, and also our participation in paperex exhibition brought us some good inquiries"

Web Title: A new paper mill in High BF segment; Machine supplied by Saloni Paper Machines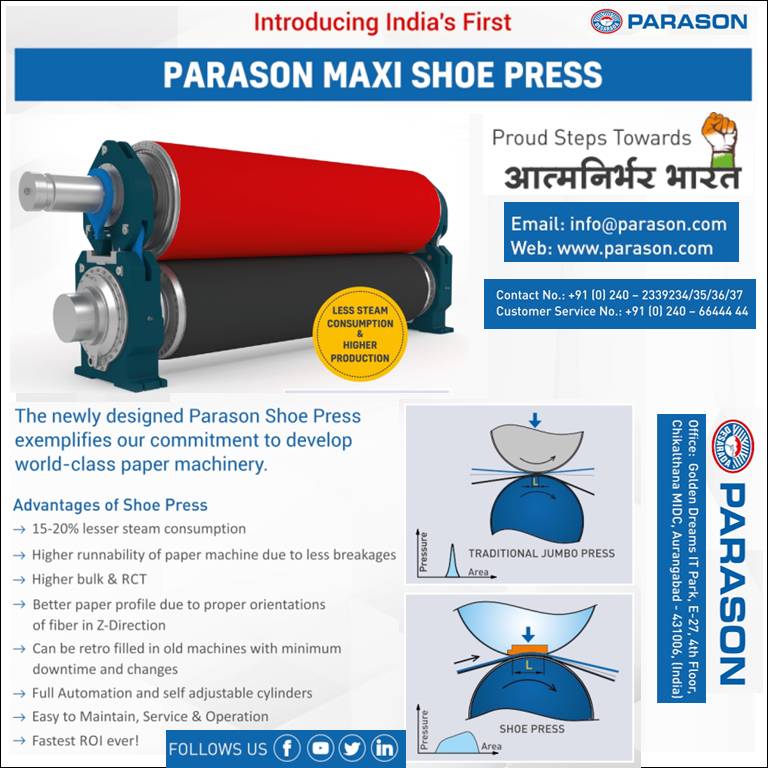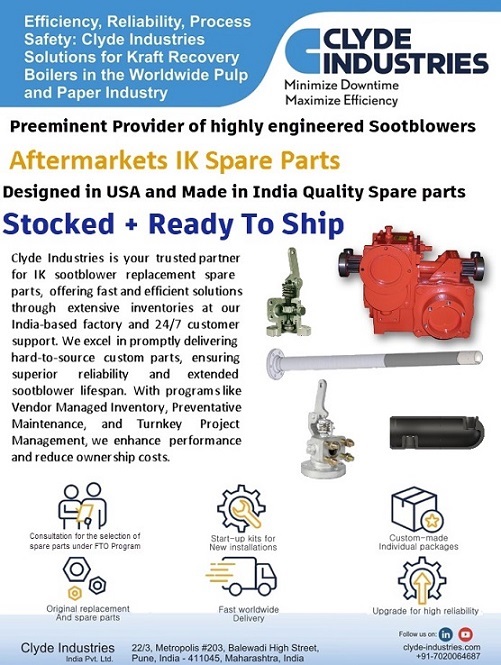 Next Stories