WPRPC will give flip to waste paper recovery and utilization scenario: CPPRI

WPRPC will give flip to waste paper recovery and utilization scenario: CPPRI
- A new Waste Paper Recycling Promotion Center at Delhi set up by CPPRI
- WPRPC center will also be helpful in providing authentic information and data to various stakeholders about waste paper.
- SWOT analysis of this sector for further policy/guideline formulation
- According to Industry estimates, waste paper imports have easily crossed 110 billion rupees mark
New Delhi | 12th October 2022 | The Pulp and Paper Times:
Central Pulp and Paper Research Institute (CPPRI), Saharanpur has been awarded a project on "setting up of Waste Paper Recycling Promotion Center (WPRPC) at New Delhi and Chennai". The WPRPC-Delhi Centre was inaugurated on 12th October 2022 at Patpadganj industrial area, New Delhi. This is the extension centre of Central Pulp and Paper Research Institute Saharanpur, which will cater the need of pulp and paper Industry including recycled paper collection and promotion activities.
The Chief Guest on the occasion, who also formally inaugurated the center, was Mr. T. Balakumar, CMD- Subam Papes Pvt. Ltd. Tirunelveli ,Tamilnadu, who has recently been nominated as the Chairman of DCPPAI(Development council of Pulp, paper Allied Industry), by Ministry of Commerce and Industry, Government of India. Expressing his satisfaction on this step in the right direction, he emphasized the need of a concerted strategy to be put in place for the benefit of the paper sector at large.
Addressing the gathering from paper industry, Mr. Satpal Gupta, Managing Director of Narsingh Dass & Company stressed the need of improving the waste paper recovery rate in India, he added, "As per the estimates, the present recovery rate in India for waste paper is of the order of more than 50 percent. The recovery rate is fast catching up but is much below as compared to the developed nations like Japan-81%, Europe-71.4 % and USA-68% and is at par with new emerging paper destination South Africa which is at 60%"
The systematic and scientific knowledge about collection, sorting, grading and recyclability will certainly help our paper industry in meeting raw material shortage as well as achieving the future projected paper demand of our country.
Mr. Satpal informed that the domestic paper industry produced 24 million tons of paper in the financial year 2020-2021. 4.32 million tons of paper contributing 18% of total production uses wood chiefly from social forestry. Agricultural residues like bagasse and wheat straw are used to produce 2.4 million ton, contributing 10% of the total production. 17.28 million tons contributing 72%share of the total production was produced from recovered paper and or waste paper. The recovered paper presently constitutes as the major raw material base for the domestic paper industry.
The waste paper requirement taking into consideration of an average of 80-85% yield in the papermaking process, the consumption of recovered paper amounts to 20 million tons per annum.
The event was inaugurated by the Shri T.Balakumar, CMD Subam Papers Pvt. Ltd. Tirunelveli,TN, and Chairman of DCPPAI (Development council of Pulp, paper Allied Industry), ,DPIIT, Ministry of Commerce and Industry, Government of India. The inaugural ceremony was attended by Director of Central Pulp and Paper Research Institute Dr. M. K. Gupta, and the leaders of paper fraternity of India.
India needs more such programs for improving waste paper collection, segregation and utilization. In this perspective, setting up of this WPRPC center is a right step, the objective of this center are:
-Promotion, collection and increased use of waste paper
-Study on Stable Supply Chain and reliable volume of waste paper
-Quality monitoring and improvement
-Legal tools
-Data network to ensure quality
"According to 2019 statistics available, the waste paper imports in India have jumped 3.5 times of 2011 level. The imports of waste paper in FY2011 were to the tune of 28.31 billion rupees and reached 91.86 billion rupees in FY2019. According to the Industry estimates, this has easily crossed 110 billion rupees mark, taking into account the rupee devaluation and increase in recovered fiber demand by the industry. It goes to show the dependence of the domestic paper industry on imported waste paper," Mr. Satpal shared.
Citing the example of Confederation of European Paper Industries (CEPI), Mr. Satpal added that CEPI has unveiled, the updated version of its European harmonized recyclability test method, developed in collaboration with stakeholders in the entire paper value chain, including specialized testing laboratories. The goal of this exercise is to make all paper packaging recyclable by 2025 and reach a recycling rate of 90% by 2030.
The updated CEPI harmonized recyclability test method offers a solid basis for this work and allows paper products across Europe to be tested for their recyclability in identical conditions.
Mr. Jori Ring man, Director General –Confederation of the European Paper Industries, is thus correct, when he said, "To optimize recycling, product design is just as important as the final collection and processing after usage."
WPRPC center will also be helpful in providing authentic information and data to various stake holders, specifically on –
-Waste price, supply and demand
-Benchmarks on various aspects related to raw material availability, paper production and quality along with different geographical areas
-SWOT analysis of this sector for further policy/guideline formulation
-Development of transaction-based recycled fibre price benchmark to help the industry in reducing the volatility and uncertainty in waste paper procurement prices
-Tracking and understanding market movements over time to correlate price changes
-Segmentation of apparent contract vs spot to understand market dynamics and get insight into where the market is headed
The data and knowledge base generated by WPRPC will help the industry to make fact-based decisions and protect the interest of the sector.
The success of this promotion center shall be depended on the participation of all stakeholders in value chain including paper traders, waste paper suppliers, paper mills and paper users.
Proper strategies and key interventions are required for enhancing the waste collection in the country. CPPRI with the collective support and effort by all the stake holders can make positive contribution towards increasing the waste paper collection, thus contributing to the Govt initiative for Atma Nirbhar Bharat, in context of making indigenous fibrous raw material available to the domestic paper manufacturers and saving valuable foreign exchange.
It is also proposed RCF based integrated mother pulp mills may be promoted from various regions of the country which can provide high quality RCF based pulp to the paper mills in the country. This will help in reducing the production cost, energy cost and ETP operation cost.
Pramod Agrawal CMD Rama paper mills ltd and President IARPMA, Shri R.C.Rastogi MD Khateema Fibres, Director IIP Dr.Tanweer Alam, and Joint Director Dr. Madhab Charkraborty, Dr. B.P. Thapliyal Secretary General IARPMA, Shri Rohit Pandit Secretary General IPMA, Shri Vijay Kumar Secretary General INMA etc.. Senior Scientist of Central Pulp and Paper Research Institute Saharanpur Dr. Kawaljeet, Dr.Priti Shivharelal, Dr. NitinEndlay, Dr.SanjayTyagi, Shri Alok Goel also attended the inaugural ceremony.
Web Title: WPRPC will give flip to the waste paper recovery and utilization scenario: CPPRI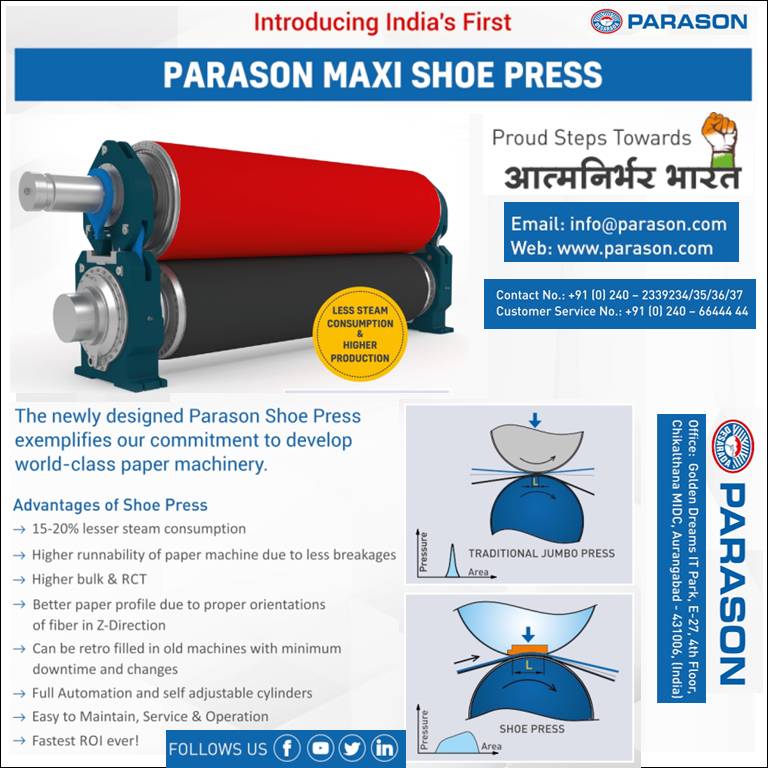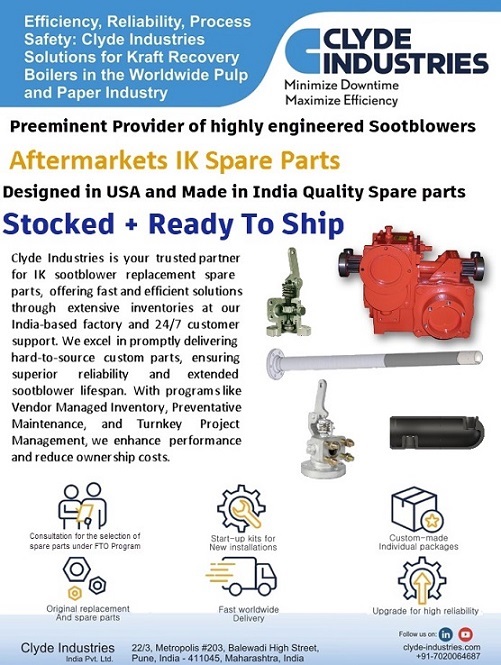 Next Stories