Operational debottlenecking and plant upgrades, Kuantum Paper aims to enhance production capacity by approx. 25%; setting up a tissue machine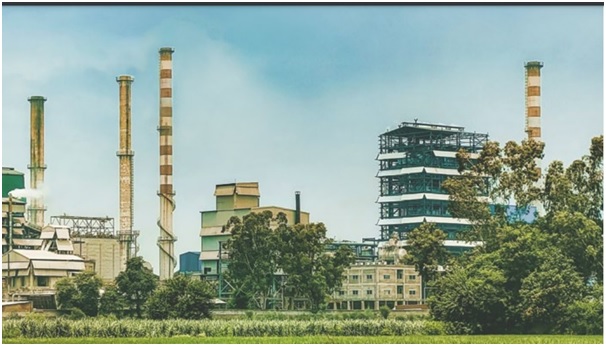 Operational debottlenecking and plant upgrades, Kuantum Paper aims to enhance production capacity by approx. 25%; setting up a tissue machine
- A new A4 Sheeter with a capacity of 60 TPD has been installed.
- Planning to set up a state-of- the- art Rice Straw Boiler in order to replace the usage of coal with biomass in our power plant operations
- Net profit is INR 136 crores with a growth of over 900% from the previous year with PAT margin reported at 10.4%
The Pulp and Paper Times | August 2023:
Kuantum Papers Limited (KPL) is a distinguished manufacturer of agro and wood-based Writing & Printing, Copier and Specialty papers, with a remarkable presence of over four decades in the industry. At KPL, innovations in products and processes have played a pivotal role in its journey of delivering excellence and staying ahead of the curve.
In the KPL's 26th annual report, Mr Jagesh Kumar Khaitan, Chairman of Kuantum Paper Ltd, stated, "The domestic paper industry witnessed encouraging growth during the year, driven by rising demand for all types of paper products across various sectors such as education, FMCG, packaging, pharma and e-commerce. This momentum is expected to continue in the coming year as well. Paper Industry expect a significant boost in demand from the Education sector on account of impending changes in the New Education Policy and curriculum, along with the introduction of new textbooks in 22 languages in alliance with NCERT and the Ministry of Education. Paper has also found its applications as a replacement for singleuse plastic, bolstering its demand"
C u s t o m e r- c e n t r i c i t y , digitalisation and a sharper focus on environment and sustainability will continue to drive KPL's strategic decisions over the long-term.
Innovation in specialty papers has also contributed to industry growth. The demand for specialty papers with unique properties and customized printing solutions has been on the rise. Manufacturers investing in research and development to create innovative and value-added specialty papers have tapped into niche markets, driving industry growth.
"KPL reported the highest ever yearly revenue of INR 1,313 crores, representing a growth of around 57% year-on-year, while EBITDA stood at INR 383 crores, which grew by 212% year-on-year. Our EBITDA margin touched a new high of 29% for the full year. The net profit for the year before tax and exceptional items, which were on account of tax adjustments relating to the previous years, stood at INR 266 crores. Post these adjustments and tax, the net profit is INR 136 crores with a growth of over 900% from the previous year with PAT margin reported at 10.4%," added by Mr Pavan Khaitan Vice Chairman & Managing Director- KPL.
Mr Khaitan informed that we are taking proactive initiatives to reduce our carbon impact. We are planning to set up a state-of- the- art Rice Straw Boiler in order to replace the usage of coal with biomass in our power plant operations. We have engaged technical experts and are in the process of finalising the most appropriate technology and supplier to drive smooth operations with a positive environmental effect.
"We have a vision to reduce our fresh water consumption by almost 35% in the next 2 years, with the adoption of the best available technology in this field. A budget of INR 13.5 crores has been prepared to take the production capacity of our Clonal Propagation Unit up to 1 crore clones annually." He added.
On the future growth strategy of KPL, Mr Khaitan informed that to sustain our growth momentum, we have devised a comprehensive growth strategy. This includes debottlenecking and upgrading our plant operations to increase production capacity by approximately 25% while optimising costs. Additionally, we plan to diversify our product portfolio by setting up a Tissue machine to cater to the growing demand for tissue paper products.
KPL has further undertaken the implementation of the capex projects with an outlay of INR 57 Crores towards debottlenecking, paper production capacity enhancement, optimisation of capacity utilization, cost reduction, new products, optimizing production of better margin products etc. The capex projects are funded through term loan of INR 38 Crores and the balance INR 19 Crores through internal accruals. The implementation of the projects is under way and are scheduled to be completed and commissioned by September 2023.
"Moreover, we see the ban on single-use plastics as an opportunity to develop a range of sustainable specialty paper products which provide the rightful replacement of single use plastics which have low utility and high littering impact on the environment. By aligning ourselves with environmental goals, we are poised to meet the evolving demands of consumers and contribute to a greener world." He said.
As move forward, KPL remain focused on its growth strategies and aim to further enhance operational efficiency, expand product portfolio, and continue delivering excellent financial results. KPL is optimistic about the demand for paper products across various sectors, including education, FMCG, packaging, pharma, and e-commerce. Our investments in infrastructure, technology and sustainability initiatives position us well to capitalise on these opportunities.
International Collaborations:
In partnership with Tanovis AG, KPL have established a first-of-its-kind Full Scale Lignin Precipitation System. This innovative system separates non-biodegradable lignin from black liquor, enhancing our sustainability initiatives. KPL work with Specialty Minerals Inc. to create Precipitated Calcium Carbonate (PCC), a filler used in paper manufacturing. This partnership was the world's first backward integrated PCC Plant in an agro-based enterprise.
Specialty Products for Sustainability
KPL have developed a portfolio of specialty products such as straw base paper and cupstock that provide the rightful replacement of single use plastic products and promote a sustainable future. KPL aim is to provide e n v i r o n m e n t - f r i e n d l y alternatives that cater to the changing needs of consumers and regulations.
Being a wood-based industry, Kuantum is actively engaged in reforestation efforts. KPL has planted clonal plants covering 950 acres of plantation during 2022-23. Its target for the coming years is to expand our clonal sapling production to 1 crore per annum, helping us to cover around 5,000 hectares under plantation to meet our raw material needs sustainably.
OPERATIONS
The industry after witnessing two consecutive years of relative revenue contraction in FY 2021 and 2022, owing to a slowdown in demand for the paper segment due to closure of educational institutions, shift towards online and digital culture, as well as the impact of covid-19, witnessed a strong revival in demand consequent to reopening of educational institutions and a complete revival of economy in the current year. During the year under review, the Company achieved a production of 1,52,172 metric tonnes, as against 1,51,740 metric tonnes in the previous year. The quantitative figure for the sale of paper was 1,52,305 metric tonnes this year leaving 11 metric tonnes as closing stock, as against the sale of 1,51,674 metric tonnes in the previous year.
Research & Development and Environment
Specific areas in which in-house R&D projects have been carried out by the Company during FY 22-23
- New products developed - Kosheen Aqua with 100% own Hardwood pulp, straw base paper, Buff pulp board, Cupstock paper with bio-coating, OGR (Oil & Grease Resistant) base paper.
- New shade development has been done for blue parchment paper, parchment buff and green shade base paper for coated cards.
- Analyzed the influence of washing on raw material (wheat straw) with Na2CO3 followed by acid neutralization to reduce non process elements like silica, chlorides and calcium.
- Trial conducted and successfully used Bamboo from different states as an alternative material in hardwood pulp street was carried out successfully.
- Pulping and bleaching studies of Casuarina wood for alternative raw material development for making pulp and paper which provides 1.5% higher yield in comparison of Eucalyptus wood.
- To increase the production of Copier paper, This is equipped a new A4 Sheeter with a capacity of 60 TPD has been installed. with latest energy efficient AC technology and automation system.

Web Title: Operational debottlenecking and plant upgrades, Kuantum Paper aims to enhance production capacity by appro. 25%; setting up a tissue machine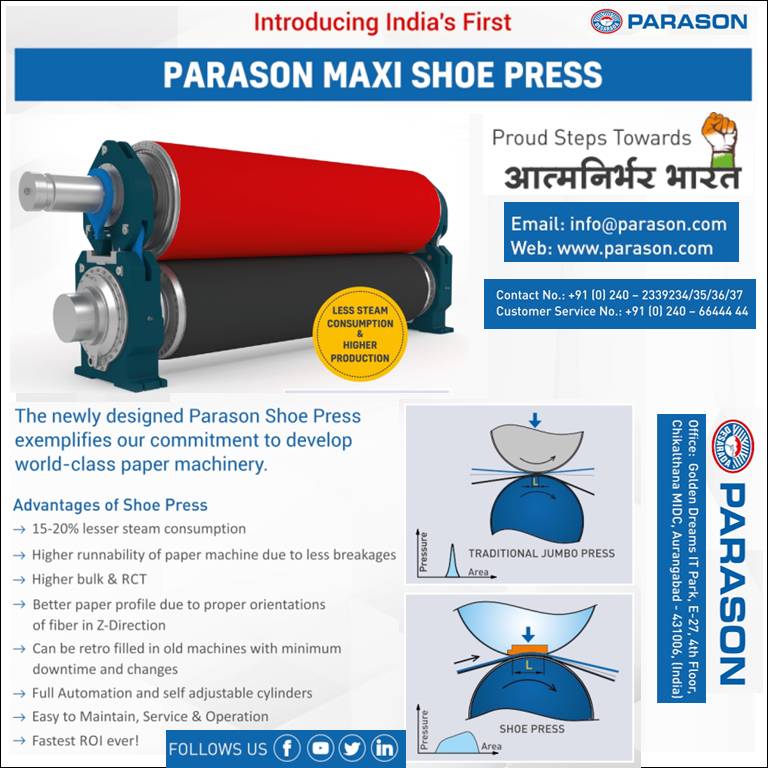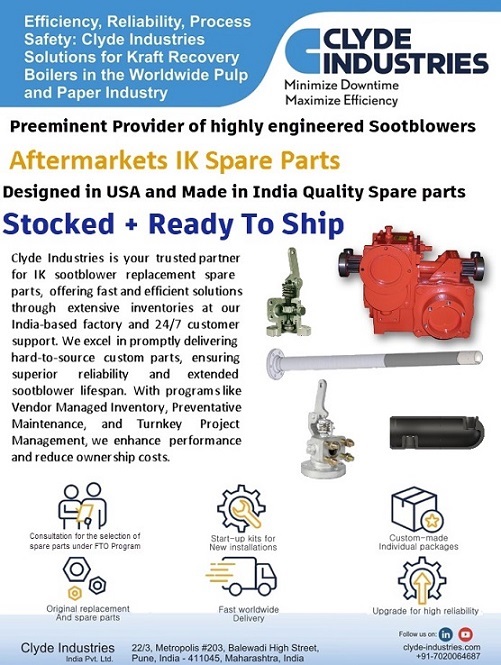 Next Stories